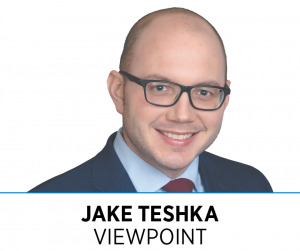 If I told you there is an issue on which 85% of Hoosiers agree, would you believe me?
In today's divisive political environment, it's certainly hard to fathom. A recent survey of Hoosiers, however, shows a new high-water mark of support for some type of cannabis reform. In it, only 15% of respondents agreed with the status quo policy of cannabis prohibition.
Unfortunately, Indiana officially became an island of cannabis prohibition earlier this month when Kentucky began allowing its residents to possess medical cannabis legally purchased in another state. The impact of cannabis-reform policies like these are acutely felt in border communities like mine in northern Indiana.
A quick search shows 13 Michigan dispensaries within a 20-mile drive of my home in South Bend. If you expand that search to 30 miles, the number doubles. These businesses don't cluster on the border by mistake. Drive by one, and you'll likely see more than half of the cars in the parking lot bear Indiana license plates.
Why would Hoosiers risk crossing state lines to purchase cannabis there?
It's clear they understand that regulated cannabis with quality standards is inherently safer than untested cannabis readily available on the illicit market. As the vast majority of states have undertaken some form of cannabis-reform efforts, the data continues to show the safest way to deal with cannabis is to properly regulate it.
In fact, recent data illustrates that states with regulated cannabis showed an older age of first cannabis use, fewer days of past-month cannabis use for those 16-20 years old and fewer days of driving under the influence of cannabis in the past month.
Among the many recent studies showing potential public health benefits of regulated cannabis markets, one hitting particularly close to home for our rural and urban communities is the association between cannabis reform and reduced rates of opioid use and abuse. A 2020 study found that broader market access to regulated cannabis correlates with reduced opioid-related death rates, particularly deaths associated with synthetic opioids like fentanyl.
In 2021, drug overdose deaths in Indiana hit a record high for the second year in a row, with the Centers for Disease Control and Prevention estimating 2,755 Hoosiers died from drug overdoses. Approximately 85% of those were due to fentanyl. In light of this devastating number of preventable deaths, evidence showing that access to regulated cannabis can improve public health outcomes is getting harder to ignore.
The current federal status of cannabis would lead us to believe it is a dangerous and destructive substance like heroin and has no redeeming medical value. However, multiple studies and emerging research indicate numerous legitimate medical uses for cannabis.
Perhaps there is a therapeutic use for a constituent who wrote to my office just after Thanksgiving. He has stage-four prostate cancer. After a prostatectomy, 40 rounds of radiation, androgen deprivation therapy and more, he wonders if cannabis could help if he knew it was safe. "I would eat cow dung if it would help me live longer," he said. "I know it's a long shot, but my life is all I have to lose."
Hoosiers clearly understand cannabis prohibition is an unsustainable policy position that hurts public health while draining the limited resources of our local law enforcement efforts. It might be a long shot, but I look forward to continuing to collaborate with my colleagues and other stakeholders on how best to bring responsible cannabis reform to Indiana.•
__________
Teshka, a Republican from South Bend, represents District 7 in the Indiana House.
Please enable JavaScript to view this content.