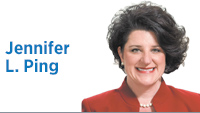 Gov. Eric Holcomb has my utmost respect for his passion to improve the lives of all Hoosiers, born and unborn. He included pregnancy accommodations in the workplace in his 2020 legislative agenda. Senate Bill 342 would have provided pregnant women the education to know that they can request reasonable accommodations while working. The bill included provisions that would provide additional restroom breaks, give workers the option of sitting instead of standing and time off without pay, among others.
The author of the bill, Sen. Ron Alting, said in his closing remarks in the Senate Health Committee, that SB 342 is "the most pro-life bill this session." But that did not help the bill's chances. The Senate voted to send the topic to a summer study committee and the bill essentially died.
According to the March of Dimes, Indiana has one of the highest maternal and infant mortality rates in the country. Roughly 41 women in Indiana die per every 100,000 live births—and the rate is worse for women of color. In 2018, 47.3% of infant deaths in Indiana were due to perinatal risks, with the most common being preterm birth, which is the number one cause of infant mortality in our state, according to the Indiana State Department of Health.
I hope the conversation for reasonable accommodations for pregnant women in the workplace is not over, because this, for me, is personal.
Shortly after graduating from Purdue University and newly married, I did not know what field of work I wanted to seek. I just knew that I needed a job. I was offered a position at small business with good pay and many responsibilities. My role included customer sales and management of the shipping and receiving department. I was excited for the important responsibilities.
As one could assume, managing the shipping and receiving responsibilities for a small company means everyone, including the manager, helps out and I did a lot. Packing, unpacking and lifting boxes, a lot of boxes. I never minded helping out and loved my job and the team. But, after being there for about a year, I became pregnant and I was afraid to tell the owners. I was fearful I would lose my job, so I did not tell anyone. I was college educated, a manager and I was afraid of losing my job because I was pregnant.
A key part of SB 342 would have required employers to share educational materials with employees who might become pregnant about how they could ask for accommodations if needed. The Indiana Institute for Working Families explains that when a woman cannot afford to lose their job (as was my case), they are likely to be afraid to ask their employer for adjustments or may continue working in dangerous conditions.
Again, this is personal for me. I was afraid I would lose my job and very sadly, in my 14th week of pregnancy, I miscarried my baby. Looking back, I can now see the physical stress of my job, combined with the fear of losing my job, likely contributed to my miscarriage.
Much of the debate over SB 342 focused on a list of examples of reasonable accommodations in the bill. Most pregnant women require only minor accommodations in their workplace to help them stay healthy and carry their babies to term. I implore the Indiana General Assembly to seriously address this issue. More women than ever are working and are the primary income earners for their families in Indiana. Let us have public policies that support our mothers and the next generation of Hoosiers.•
__________
Ping is executive director of public affairs at Krieg DeVault and former chairwoman of the Marion County Republican Party. Send comments to ibjedit@ibj.com.

Click here for more Forefront columns.
Please enable JavaScript to view this content.