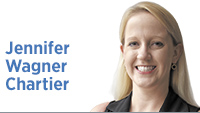 As someone who dabbles in punditry both on the local news and in this publication, I'm sometimes asked what issues will dominate a particular legislative session or campaign.
How did early-childhood literacy move from a topic we've always known was important to national news stories focused on the "science of reading," multiple bills moving at the General Assembly this year and more than $100 million in statewide philanthropic investment?
Rewinding the clock a few years, why did it take decades for marriage equality to become the law of the land? (Full disclosure: I was involved in that fight, and I work in the K-12 advocacy space now, so both issues are near to my heart.)
Put simply, are there circumstances that cause an issue to jump from something that's been ongoing in the background to something that's having its moment, so to speak?
If I could predict this with absolute certainty, I'd be able to charge a ridiculous hourly rate, but here are my observations from more than two decades in Indiana politics:
Urgency
Property tax reform is top of mind at the Statehouse this session because, whether homeowners know it yet or not, their bills are on track to go way up this year due to recent increasing assessed home values. Some are predicting the spike could be as much as 15%.
When taxes go up, the buck tends to stop with elected officials, so there's a definite sense of urgency to solve this challenge before it happens instead of waiting to find out how voters respond to the sticker shock.
Loss of freedom
We Hoosiers aren't what I'd call natural advocates; we tend to prefer a live-and-let-live approach to government right up until it looks like we're about to lose or actually do lose a freedom.
I'd file marriage equality under this category. Advocates spent years at the Statehouse raising the issue, but it wasn't until Indiana was on the verge of passing a constitutional amendment banning same-sex marriage that a lot more folks jumped in.
Shiny object
This session's shiny object—an out-of-the-ordinary issue that's going to generate some clickbait— is actually a shiny object: throwing stars.
Unbeknownst to pretty much everyone, Indiana has banned throwing stars since 1985, but the Senate recently passed legislation that would legalize them for recreational use assuming certain safety precautions are in place.
The push to bring back mandatory cursive handwriting probably belongs in this category, too; it's a perennial Statehouse favorite that's always good for a few headlines.
Something goes very wrong
It took a global pandemic for the nation to realize we had some pretty big, enduring educational gaps among our most vulnerable students. With two years of learning loss at the forefront of the K-12 conversation, lawmakers are not just talking about how to bridge those gaps, but they're looking at the underlying causes that got us here in the first place.
We're having similar conversations about public health and disparate access to technology and connectivity.
Without a political crystal ball, we'll have to wait to see what becomes the session's hot topics, but the big-ticket items will almost certainly fall into at least one of these four areas.•
__________
Chartier is a lifelong Indianapolis resident and owner of Mass Ave Public Relations. Send comments to ibjedit@ibj.com.

Click here for more Forefront columns.
Please enable JavaScript to view this content.