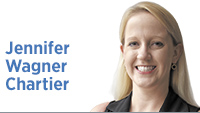 Communicators in the issue-advocacy space frequently wind up training individuals how to speak to legislators and testify at the Statehouse. It's an important part of the job because it connects an issue at hand and those affected by it with those who have the power to change the rules.
It's an honor to get to do that work because the stories shared at the Statehouse often are deeply personal. No matter which side of an issue you're working on, it's hard not to get caught up in those emotional moments.
It wasn't until this session that I had a chance to accompany a group that wasn't there to advocate for anything. Last month, three dozen Indianapolis-area high school students and their teachers came for a half-day opportunity to watch the Indiana General Assembly in action and learn how the process works.
If you hang out at the Statehouse long enough, you're bound to run into groups of young children—typically fourth-graders studying Hoosier history—walking around learning from tour guides about the limestone and the important documents and the impressive bronze busts of historical Indiana leaders. It's a fun field trip.
It felt a little different for the high school students, some of whom were old enough or almost old enough to vote.
They had challenging questions for the elected officials they got to meet. They wondered aloud about the implication of bills currently under consideration. Instead of sticking together in a neatly organized tour group, they scattered to investigate a place most of them had never been before.
At the end of the half-day, several teachers asked when they could do something like that again, a visit with no strings attached where students got to see their government in action and know that they were welcome to bring their voices there.
This year's legislative session is almost over.
For those who've walked the hall for years, it will be just another sine die.
Lawmakers will head home.
Lobbyists will take a break.
Reporters and columnists will write their wrap-up stories.
Those who got what they wanted will leave happy. Those who didn't will go back to the drawing board. Those who came close to victory will work and pray that 2024 might finally be their year. And everyone involved knows it will all happen again next year.
The cyclical nature of political advocacy—you can find yourself comparing the number of sessions you've worked like prisoners refer to time served—makes it easy to forget that life under the dome is not always the most approachable experience.
That's why it's so important, whenever we can, to fling wide the doors of democracy and invite people into the people's house with no agenda or call to action. The reason to be there can be just to be there.•
__________
Chartier is a lifelong Indianapolis resident and owner of Mass Ave Public Relations. Send comments to ibjedit@ibj.com.

Click here for more Forefront columns.
Please enable JavaScript to view this content.