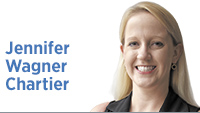 Hey, fellow Hoosiers, there's a lot going on right now, and I've got a small favor to ask.
It's about a bad habit we have, and it's probably going to take some time to break, but it would be really great if we could move the word "just" around in our sentences when we talk about people who might not share our opinion.
Far too often, and far too frequently in the social media realm, the pattern goes like this:
"What happened in Uvalde is beyond tragic. I can't imagine what those parents and families are going through having to bury their own children and two local teachers. Maybe it's finally time to consider some common-sense policy precautions to keep firearms out of the hands of psychopaths who intend to murder kids."
You're just one of those liberal gun-control people.
"I wonder if the Supreme Court has thought through all the implications of overturning Roe v. Wade and how that decision will negatively affect women's access to safe health care, women's upward mobility in the workplace, and the percentage of women finishing high school and college."
Of course you'd ask a question like that. You're just a baby killer.
"It's a real sad day when lawmakers feel the need to target transgender kids and their families with laws designed to keep them out of activities that are available to all other children just because of who they are."
You're just someone who cares more about special rights than protecting girls.
I could go on and on, and, yes, I know there are two sides to this political coin, with Democrats often dismissing Republicans the same way. That's why I don't want to focus on the issues so much as I want to point out the devaluing, dehumanizing way in which the word "just" gets deployed in all of these instances.
Instead of being viewed as an individual sharing a thoughtful opinion about something, the idea in its entirety gets jettisoned into the rhetorical dustbin because the opinion-holder is "just" another [insert stereotype here].
The way we sort and dismiss differing views makes it nearly impossible to have rational conversations about anything. By inserting a tiny verbal buffer into our responses, we turn even the most basic debate into an all-out us vs. them battle.
The good news is that, if we practice changing the words we use, we can change the way we interact with one another, and maybe we can evolve into the kind of people who want to solve problems instead of throwing up roadblocks at every turn.
And so, as we look across what feels like an overwhelming landscape of sad, depressing stories and trends, my linguistic suggestion is that we try placing the word "just" elsewhere in the sentence.
Instead of leading defensively with, "You think that because you're just [insert stereotype here]", let's train our brains to instead say, "You think that because you're a human just like me."
Overly simplistic? Probably. But right now, it feels like a little something we can all do to reframe the way we engage with others to be a little bit more productive.•
__________
Chartier is a lifelong Indianapolis resident and owner of Mass Ave Public Relations. Send comments to ibjedit@ibj.com.

Click here for more Forefront columns.
Please enable JavaScript to view this content.