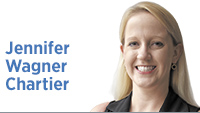 In 2020, Tulsi Gabbard ran for president as a Democrat.
Last month, the former Hawaii congresswoman announced she was leaving the Democratic Party as a result, she said, of the party's stances on foreign policy, law enforcement and social issues.
Those who follow politics closely weren't terribly shocked, but it's still big national news any time a former presidential candidate leaves his or her party, though it's worth noting that she chose non-affiliation over becoming a Republican.
The Gabbard situation got me thinking about a few friends who recently switched parties—and what it takes to make that decision. Because, as anyone who's worked in politics will tell you, you can make that leap only one time; there's no going back.
Hidden within the narrative of those who publicly, officially declare their allegiance to the other side are likely lessons for parties about what they need to do to tend their flocks, especially when most folks these days are choosing to stay in the middle.
According to a Gallup monthly tracking poll in September, 30% of Americans identify as Republicans, 24% as Democrats, and 43% as independents. The percentage of independents has steadily risen since the 1940s and 1950s and now stands at more than double what it was back then.
My take: In order for parties to keep the party faithful, um, faithful, they have to practice what I'll call "good enough politics."
It's a phrase borrowed from "good enough parenting," the concept that "good enough" parents don't try to be perfect parents and likewise don't expect perfection from their children. They instill foundational values, but they lead with empathy and understanding, and they understand parenting is a two-way street.
Parenting and politics are obviously very different, but to me, the role of the party is not to come in with a heavy hand demanding absolute compliance on every single issue; rather, it's to set out those foundational values and invite aligned folks to become part of that vision.
The result? An attachment to a political philosophy with an understanding that alignment probably won't happen 100% of the time.
You can believe, as a Democrat, that government should solve big, societal problems but also that entities other than government can solve those problems.
You can believe, as a Republican, that free markets are the most efficient way to ensure a robust economy but also that it's acceptable to have some limitations in place that protect consumers.
Good enough politics means never losing sight of your north star but understanding that you and your same-party neighbor might follow that north star along a different route.
Because, at the end of the day, political parties need people to succeed, and people are more complicated than a set of bullet points or a platform that's updated every two or four years. But if you give them a vision—something rooted in principles they can buy into and make their own—they'll come together under one banner to move that vision forward.•
__________
Chartier is a lifelong Indianapolis resident and owner of Mass Ave Public Relations. Send comments to ibjedit@ibj.com.

Click here for more Forefront columns.
Please enable JavaScript to view this content.