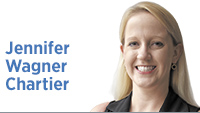 Back in 2014, it was an incredible privilege to help with communications outreach for Freedom Indiana, the statewide campaign that successfully stopped our state from enacting a constitutional ban on same-sex marriage.
During that fight, Hoosiers were warned by groups such as the Indiana Family Institute and the American Family Association of Indiana that the failure to protect "traditional" marriage would result in "sexual anarchy." There would be a proliferation of "throuples." Granting same-sex couples the legal right to wed would basically invite thunder, hail and fire to rain down from the heavens.
As it turns out, when the U.S. Supreme Court made marriage equality the law of the land in June 2015, none of those things happened.
What did happen: Hundreds of thousands of same-sex couples, many of whom already were married under state law, were afforded the same protections under law that opposite-sex married couples have had since, well, forever.
Ideally, that would have been that. Settled case law. The end. And for seven years, it was.
The U.S. Census Bureau estimated in 2019 that there were more than half a million same-sex married couples in the United States. Public perception of same-sex marriage has continued to astronomically ascend, with just 27% supportive in 1996 compared to 71% in 2022, according to Gallup research.
But earlier this year, when the Supreme Court overturned Roe v. Wade, the decision had implications far beyond a woman's right to control her personal health care decisions; it posed a clear potential threat both to same-sex and interracial marriages.
Enter the Respect for Marriage Act, legislation that would require the federal government to recognize the validity of those marriages as well as protect religious liberty.
At first, it seemed as though the bill might only garner support from Democrats, but over the months it was debated, and through a series of bipartisan alliances and negotiations, when it reached the U.S. Senate for a final vote late last week, 12 Republicans joined with the Democrats to approve it by a 61-36 margin.
One of those Republicans was Sen. Todd Young of Indiana, who penned an op-ed following the vote that began this way: "In the debate over how the federal government views civil marriage, all Hoosiers want to be treated with dignity and respect."
He went on to explain how protections for civil marriages can coexist with religious freedom. I felt like I was re-reading some of the messaging guidance I helped write eight years ago, when we were pleading with lawmakers not to legalize same-sex marriage, but to avoid inserting discriminatory language into our state's founding document.
A whole lot of things had to go wrong for us to need the Respect for Marriage Act in the first place, but it turned out that dignity and respect are not partisan values. They're part of our shared values as humans making our way in a pluralistic society.
I do not often overlap with Young when it comes to support for political issues, which is why I want to make sure to offer my thanks for his vote to protect the legal right for all Hoosiers and Americans to marry who they love no matter who they are. The path isn't always easy, quick or direct, but love always wins.•
__________
Chartier is a lifelong Indianapolis resident and owner of Mass Ave Public Relations. Send comments to ibjedit@ibj.com.

Click here for more Forefront columns.
Please enable JavaScript to view this content.