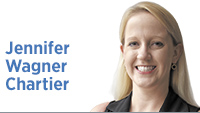 I recently saw a photo of two Republican politicians together: secretary of state nominee Diego Morales and Hamilton County prosecutor candidate Greg Garrison.
It made me think of a conversation I had last year with my now-husband's cousin. She's in the C-suite at a Fortune 200 company, and I had called her for advice about finding a new job. Before she went into the private sector, she started a not-for-profit to help women advance their careers in the business world.
In a nutshell, she told me to just apply. For all jobs I was interested in. Even if they weren't an exact fit. Especially if they weren't an exact fit.
Women, she counseled, will see a position description with 10 requirements and take a pass if they check only eight of those boxes. Men, on the other hand, will apply for a job thinking they can make up the difference if they check only a few.
I think of her pep talk when I see candidates like Morales and Garrison on the ballot—the former fired from the office he's seeking for poor job performance and the latter a retired conservative talk show host who made a name for himself 30 years ago in the Mike Tyson case but hasn't prosecuted a case this century.
On a good day, they might check one or two boxes for the positions they currently seek.
And so, we should look instead to their incredibly smart, qualified female opponents. For secretary of state, that's Destiny Wells, a combat veteran, lawyer and entrepreneur. For Hamilton County prosecutor, that's Jessica Paxson, a Hamilton County deputy prosecutor who came back to her home community after law school to prosecute violent and sex crimes.
I don't know these women personally; I do know they are both eminently more qualified and trustworthy than their opponents.
Wells and Paxson are Democrats, but it's worth noting that both parties have done laudable work training up female candidates.
I've offered plaudits many times for the Lugar Series, a program that's been working to put more Republican women in leadership positions in politics since 1990. Secretary of State Holli Sullivan, ousted by Morales at this year's GOP state convention, graduated from the program in 2010 and serves on its board.
Hoosier Women Forward, which similarly trains Democratic women for civic and political engagement, just welcomed its fifth class of participants.
Going back to the advice from my husband's cousin, I can't help noting there are no training programs solely for would-be male candidates. Because why would there be? Men just sign up.
To be clear, I am not writing a column stating that women are always the better candidate in any given campaign. If I lived in Georgia's 14th Congressional District, I would gleefully cast my ballot for Marcus Flowers over Marjorie Taylor Greene.
What I'm saying is that women often need a little more encouragement to get over the "Can I do this?" hurdle, even when—especially when—they are facing opponents who are more outspoken than outstanding.
Let's make sure we're giving them that support this year and beyond.•
__________
Chartier is a lifelong Indianapolis resident and owner of Mass Ave Public Relations. Send comments to ibjedit@ibj.com.

Click here for more Forefront columns.
Please enable JavaScript to view this content.