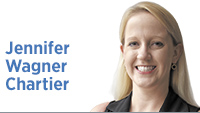 As we head toward the Nov. 8 election, I have one message for all you candidates, campaign staff and volunteers out there who've been busting your behinds since the primary or before: You're almost there. Finish strong.
To be clear, there are folks on the ballot this cycle (and every cycle) that I wouldn't support if they were the last candidate standing (and sometimes they are, given the number of offices that go unopposed). But it's worth a minute for all of us to stop and say, "Hey, you did something big," to anyone who's willing to take that leap.
It's easy to fall into the narrative that people won't run for office because it's expensive. While money is and always has been called the mother's milk of politics, the reasons people don't run are a lot more nuanced.
I'd argue the time commitment is top of that list.
Unless you are independently wealthy or retired, chances are greater than not that you have to hold down a full-time job while you run for office.
That means you're balancing your work schedule against all the parades, chicken dinners, club meetings and other assorted events your calendar can handle. If you have a family or any sort of personal life, you can pretty much pause paying attention to that for the duration of the campaign.
We take for granted here in central Indiana that everything is compact and drivable; I assure you that out-state congressional districts are not so easily navigable, and for those keeping score at home, Indiana still has 92 counties. Statewide candidates love to make a pledge to visit them all until they realize that, yeah, that's 92 counties you have to check off.
Oh, and if you're a Democrat or Libertarian, in most of these places, you're way less likely to win. We're still a state that supported Donald Trump by double digits, after all.
If time on the trail isn't enough of a deterrent, let's also consider that, with the exception of some countywide positions, almost all elected offices in Indiana are part-time gigs.
If you manage to earn 51% of the vote after months of shaking hands and passing out stickers, the job you got hired for might not pay you what you need to make or much at all—so you'll need to keep that full-time job in addition to the new one.
Finally, we haven't touched on the public scrutiny you'll face as a candidate. If you've done something shady or illegal or immoral, it's almost certainly going to come to light. And while the standard for what the public will tolerate seems to have changed over the years (thanks in no small part to Trump's devil-may-care style), you'd best prepare yourself to have someone dig into every detail in your past and paste the results into an opposition research file.
And so, with all that in perspective, as someone who's probably spent too many years in this field, I salute all of you for trying. It's hard. We need more people to do it, especially female candidates and candidates of color, and I wish you the best of luck at the polls in a few weeks.•
__________
Chartier is a lifelong Indianapolis resident and owner of Mass Ave Public Relations. Send comments to ibjedit@ibj.com.

Click here for more Forefront columns.
Please enable JavaScript to view this content.