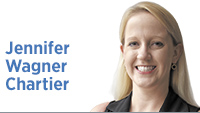 When a local restaurant is in a downward spiral, there are a few key tells: cutting back hours, seating smaller sections, losing staff and negative social media reviews.
The one we always look for is food quality. When high-quality ingredients get replaced by cheaper items (think pre-packaged ham instead of Smoking Goose meats), it makes you think twice about coming back.
The same holds true with local news and it's why the ongoing contract battle between the Indianapolis NewsGuild and the corporate bosses at Gannett/USA Today is so important.
It's been two decades since I was a reporter at the Star, but you don't have to take a stroll into the newsroom to know the ranks have dwindled in Indianapolis and across the nation.
The U.S. Bureau of Labor Statistics recently reported a 57% decline in newspaper newsroom employees—from 71,640 to 30,820—since 2004. According to Columbia Journalism Review, the number of newspaper newsroom staff per 100,000 people, which they call "coverage density," has dropped 62% in that same time frame.
Reporters and newsroom staff today are being asked to carry the same workload three or four folks might have carried back in the late 1990s or early 2000s.
The printed newspaper, for those who still subscribe instead of reading online, is a shadow of its former self, a few scant sections with plenty of ads in between.
According to Pew Research, in 2020, the estimated total U.S. daily newspaper circulation—print and digital combined—was 24.3 million for weekday and 25.8 million for Sunday, each down 6% from the previous year. From the 1960s through the 1990s, those numbers consistently tracked above 60 million.
And then there's the issue of how the profession is viewed. Thanks in no small part to the "fake news" political era, Gallup reported in July that just 16% of Americans have a great deal or quite a lot of confidence in newspapers, and 11% have some degree of confidence in television news.
Using our restaurant rubric, we've checked off less staff, smaller sections, less time to do the job and negative publicity. All that's standing between us and the worst of times is the quality of the product.
And that's the absolute best thing local journalism still has going for it. Yes, there are fewer reporters, and they're doing way more work, but they're darn good journalists. They are part of this community. They care about this community. And they are committed to their jobs.
Like all humans, they deserve to be paid fairly for those jobs, which includes fixing internal pay inequity, updating outdated pay scales and offering wages that keep up with inflation. They want to see more diverse hiring to reflect the community they cover. And they want to keep local news local.
But this isn't just about what they want; it's about what a thriving city needs. The Star is Indiana's newspaper of record. Without strong journalism, there's no one to hold all the levels of government accountable or to stand up for the people who far too often get run over by systems and bureaucracies.
No one thinks we're going back to the halcyon days of a two-newspaper town with a local and state edition, but the stakes are too high not to invest in quality local news brought to you by talented journalists with historical knowledge of the community they cover and love.•
__________
Chartier is a lifelong Indianapolis resident and owner of Mass Ave Public Relations. Send comments to ibjedit@ibj.com.

Click here for more Forefront columns.
Please enable JavaScript to view this content.