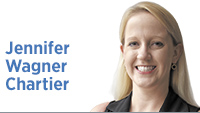 Rarely do you expect a trip down political memory lane to sneak up on you at a Noblesville ninja gym on a Monday night.
Yet that's where my husband and I ran into someone I worked with 15 years ago on Jim Schellinger's gubernatorial primary campaign. Schellinger, the head of an Indianapolis architectural firm, was vying to run against then-Gov. Mitch Daniels in the 2008 general election.
He never got the chance, narrowly losing a campaign overshadowed by the larger-than-life presidential primary battle between Barack Obama and Hillary Clinton in which Indiana, typically an afterthought in Democratic presidential politics, actually mattered.
We talked about how Schellinger could have presented a formidable challenge to Daniels, who at that point was not enjoying high approval ratings from Hoosiers. Both men came from business backgrounds and were focused on kitchen-table issues, a far cry from the divisive rhetoric that dominates politics today.
(Daniels' public service narrative should be required study for any political communications class. He plowed into state government with unpopular ideas that cratered his popularity, then entirely rebuilt his reputation in office and later in higher education with new partnerships and promises as president of Purdue University. The kicker: He never really changed his tactics or tone.)
As we chatted, I found myself feeling like an old fuddy-duddy yearning for the halcyon days and wondering what might have happened if Democrats had won that election. Then reality set in.
We haven't had a Democratic governor in almost 20 years, and the trend line isn't looking great for future statewide candidates, even those with existing name ID and the ability to raise the millions it would take to win that race. Our journey back to that office is not impossible, but it's likely not immediate.
So we have no choice but to look at the 2024 Republican field (announced and anticipated) for some glimmer of hope that our state might have decent, levelheaded leadership for the next four years—and the foreseeable future.
Is there someone in the already-crowded field who might put hard-working Hoosiers first, rise above extremism and maybe, just maybe, try working together on issues we can agree on? Is it too much to ask to move beyond the false fear of wokeness and wake up to the reality that a lot of people in our state just aren't doing so great?
Of course, the big, lingering question is whether a person like that can even get elected. Daniels' name has been kicked around for a third gubernatorial run or a possible U.S. Senate bid, but his bottom-line, solutions-first approach could very well be used against him as a weakness today.
Still, I am hopeful, not just that Republicans can get their act together and nominate a candidate who cares more about state than self, but also that Democrats can use this opportunity to figure out which of our issues connect beyond traditional partisan lines. How can we leverage this uncertainty to connect with new voters and convince them that things could be better if we were in charge?
It starts and ends with candidates, and the road ahead will be interesting for both parties.•
____________
Chartier is a lifelong Indianapolis resident and owner of Mass Ave Public Relations. Send comments to ibjedit@ibj.com.

Click here for more Forefront columns.
Please enable JavaScript to view this content.