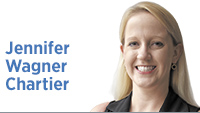 I recently read a local news story about how the Indiana Democratic Party can stage a comeback from what have been a few disappointing election cycles. I got to be part of one of those comebacks as the party spokesperson in the mid-2000s, and it's something I've written about before.
The story included this quote from a national group that trains Democratic candidates and feels bullish about Indiana's prospects: "If Democrats are going to create long-term change, we need to empower the people at the local level who are willing to do the work, who are willing to go door to door in their communities and run for school board, run for city council, run for state rep."
To which I say, "Yes, but …"
It feels like both parties have strayed miles from their fundamental principles, thanks, in part, to a highly divisive political landscape fomented by a guy who delighted in stirring the pot during the four years he occupied the White House.
Thankfully, he's not there anymore, replaced by a moderate Democrat who wants to work across the aisle to rebuild our infrastructure, get the economy moving and help our nation recover from a crippling pandemic.
Even if you didn't vote for Joe Biden or believe he's a good leader, he probably doesn't routinely cause your blood pressure to shoot off the charts. Things feel less harried. All of which should provide a solid backdrop for Indiana Democrats to rebound.
I should also note that the party operation once again has strong leadership in its newly elected chair, Mike Schmuhl, who led Joe Donnelly's successful U.S. Senate campaign in 2010 and most recently managed Pete Buttigieg's presidential bid, which rocketed the former South Bend Mayor into the national spotlight and a cabinet position in the Biden administration.
Schmuhl most certainly has the chops to turn things around if he has these three things: money, time and the ability to say "no" over and over.
I believe the funding will be there over the next four years because we've got new leadership at the party and a Democrat in the White House. The hard part, going back to the quote above, is setting expectations about where we can win—and where we can't.
I was looking at a color-coded map recently that broke down the results from the last three presidential election cycles, as well as Indiana House and Senate races during that time frame. It was very, very red, with a few pockets of blue in Lake, Marion and Monroe counties. No surprise there. The goal of the map, though, was to look for "purple" places it might be possible to message on a particular issue not solely using red or blue talking points, but something in between.
Those swatches of purple exist, but there aren't many of them. Those are the places Democrats need to focus all of their time and resources on, finding exceptional candidates to run—and telling Democrats outside of those areas that the party can't offer them any support.
It's all well and good to say we've just got to get some folks trained up to run for office and set them loose on the campaign trail, but anyone who's run for office or staffed a campaign will tell you it's not that easy. And even if you find a perfect candidate who's willing to put his or her life on hold for months to knock on doors, dial for dollars and ask for votes, that person might still come up short on Election Day. That happened in more than a few races this past cycle.
Now, the good news for Indiana Democrats is, there's only room for improvement, and even if the odds get worse at the Statehouse (which they might when Republicans draw new district maps this summer), there are no elections this year. This gives us plenty of time to recruit for 2022 and plan for the municipal cycle in 2023, where all politics truly become local.•
__________
Wagner is a lifelong Indianapolis resident and owner of Mass Ave Public Relations. Send comments to ibjedit@ibj.com.

Click here for more Forefront columns.
Please enable JavaScript to view this content.