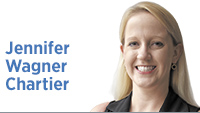 It's no secret that the urban core of Indianapolis—especially within the Mile Square—is facing an existential crisis.
It's been five months since the pandemic began, banishing thousands of office workers from bustling towers to their dining room tables. Restaurants and bars were shut down for weeks; some couldn't weather the financial loss and closed permanently.
Then, starting in late May, we had two weeks of daily protests to focus much-needed attention on police brutality. Early on, a few of those otherwise peaceful marches turned violent. Protestors smashed windows and broke into stores, leaving a trail of graffiti on sidewalks and buildings.
If you go downtown these days, you'll see that some of that damage remains. You'll also see a lot of homelessness and drug addiction on the streets. At least one shelter that serves those populations has not been operating recently, and the absence of workers and visitors likely has exacerbated the problem.
It's not a pretty picture, and it's easy for political critics to lob racially tinged phrases like, "We're becoming just like Detroit" to attack city leaders and leadership.
But the story doesn't end here. In fact, if you head downtown, you'll find store owners, servers and other service-industry workers pushing through the trying times. Many seem happy to be able to do their jobs again, and there have even been a few small events bringing visitors to our beautiful city.
Yes, the city is still beautiful.
We just have some work to do. That's where you come in.
In order for downtown to turn around and once again look like the vital, thriving heart of Indianapolis so many worked to develop for decades, we need people to come and patronize the restaurants and stores or just walk around and look at the monuments and historic neighborhoods.
I know it's much easier to stay in the suburbs, but, as former Mayor Bill Hudnut used to say, "You can't be a suburb of nothing."
When we're able to host large conventions again, there's no other place to do it. When you want to see your favorite performer or a Broadway-quality show, there's no other place to do it. When you want to attend a Colts or Pacers game, there's no other place to do it.
Right now, downtown is caught in a classic catch-22: People aren't visiting because they're afraid of what they've seen on social media or heard from friends, but without people visiting, downtown can't get back on its feet.
The other day, a friend posted a photo of himself with his kindergarten-age son at night on Monument Circle. The judgmental comments popped up within minutes: "Is that your child? Why would you take him downtown? Please be safe."
I'm pleased to report they both survived.
Safety is a feeling, and what's on the news doesn't reflect safety right now. But I promise you: Good things are still happening downtown.
I live just outside the Mile Square, and we walk down to Mass Ave and the Circle often. There are plenty of couples and families having a meal or taking in the sights. The stores are open. The ice cream is as delicious as always.
It might mean leaving your comfort zone, but I hope you'll consider joining us so we can restart the downtown that's made our city a destination.•
__________
Wagner is a lifelong Indianapolis resident and vice president of communications at EdChoice. Send comments to ibjedit@ibj.com.

Click here for more Forefront columns.
Please enable JavaScript to view this content.