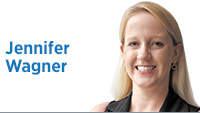 If you've walked through the lobby of Salesforce Tower recently, no one would blame you for thinking a tumbleweed or two might roll across your path. The restaurants are all closed, either temporarily or permanently, and there's very little foot traffic across those cold marble floors.
The city's marquee downtown building is a ghost town, and its heyday as white-hot commercial real estate is likely in the rearview mirror, even as some employers, including mine, bring workers back at least a few days a week.
National polling firm Morning Consult reported in early July that 85% of remote workers enjoy working remotely, and 74% of remote workers are more productive, with a similar share reporting they would be more likely to apply for a job that offers a remote-work option.
It's a no-brainer that we have to start thinking outside the box, and there are plenty of ideas to go around: schools, assisted living, test kitchens, affordable housing, college dorms, non-ground-floor retail.
As price points plummet and vacancy rates rise, we should embrace every possibility to continue innovating as we move away from stuffy offices and cubicle farms. The commercial real estate meltdown, which might have been in the offing pre-pandemic, does not have to spell end times for cities like ours.
Indianapolis, in fact, finds itself better situated than other large cities to weather the post-pandemic evolution, because city leaders decades ago made it a priority to make downtown a destination for athletic events, conventions and residential living.
From 2010 to today, the "live, work, play" approach more than doubled the number of residents who call downtown home. Rents have skyrocketed. New buildings have gone up. But still, some services remain elusive.
One of the issues I work on is K-12 policy, and it's no secret there's been an explosion during the pandemic of parents seeking options beyond traditional brick-and-mortar buildings—many of which were closed due to COVID—where their kids can receive a quality education.
It's long been a joke among downtown residents that you live there until your kids are old enough for kindergarten, then you rent the next U-Haul to the suburbs, where schools are large and plentiful. Perhaps we could entice younger families to stay with more places for their students to learn.
For older students at IUPUI or other universities with a downtown presence, why not explore turning office space into dorm rooms? We desperately need more [actually] affordable housing within the Mile Square, and what about older residents who might want to age in place near cultural amenities?
It's worth noting that, beyond schools and housing, downtown is still missing some big-ticket items, especially as Circle Centre mall continues its slow decline into obscurity.
We've never been able to lure a large retailer like Target or Walmart to provide access to everyday items, though we do have four grocery stores, including Whole Foods, that serve the city center. And, yes, I know there are some public-safety problems at the moment that are detracting from downtown's full potential; I believe city officials, merchants and law enforcement will continue working together to get things under control as we continue to reopen.
But we know the world is a different place now than it was two years ago, and we would be remiss to attempt to put all the pieces back together the same way they looked back then.
While some might see empty office buildings as bleak reminders of the pandemic, we should see them as canvasses on which to experiment as the heart of our city continues to evolve.•

Click here for more Forefront columns.
Please enable JavaScript to view this content.