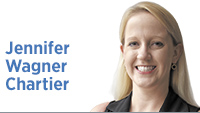 I've never been one for resolutions or wish lists, but it sure feels like we should commit to some change in the wake of the dumpster fire that was 2020. Accordingly, here are five things I hope we can embrace as we practice politics in the new year.
Forgiveness. People often conflate forgiveness with reconciliation or a renewed sense of trust. Those things are possible, but only if both sides come to the table. We're not there, and no one should pretend to be. But that doesn't mean we can't make a conscious decision to meet the moment and leave the past where it is. That doesn't mean we forget what's happened or that we're OK with it—just that we're able to focus on our own needs instead of righting a wrong that only someone else can right.
Listening. It's an understatement to say Democrats were surprised when Donald Trump was elected in 2016. How could people have voted for someone with an erratic moral compass and an agenda of inflammatory talking points? Flip the narrative, and you've got just as many Trump supporters who believe the election was rigged, the coronavirus is fake, and a border wall will solve all our immigration problems. Somewhere in the middle, you've got Republicans who just want to get back to their core limited-government principles. And we're more siloed than ever before.
According to a YouGov poll conducted in October, 24% of Democrats reported they are not friends with anyone who holds very different political views from them, a 14-point rise from 2016. Independents reported an 8-point increase (from 12% to 20%) in not being friends with those who have opposing political views, while Republicans held fairly constant with an increase from 10% to 12%.
As we head into 2021, we should make an effort to reverse this trend. You don't have to agree with someone to hear that person out; you just have to be willing to listen.
Prioritization. You can't always get what you want, but if you try sometimes, you just might find you get what you need—or what's most important to you. Figure out what that is and concentrate your efforts to make change there.
It's tempting to want to be involved in everything. It's also impossible. If you care about balanced budgets, have at it. If you want to protect women's health, don't let anything get in your way. I'm not saying everyone needs to turn into a single-issue voter, but when you try to do everything well, you wind up being good at nothing. Narrowing your focus will make you a more effective advocate.
Collaboration. This one is especially critical given that our government, at least nationally, is likely to be a divided one. Your wish list is someone else's no-fly zone, but if you listen and figure out what's most important to you (see above), you might find some common ground. Some might prefer to call this "compromise" instead of "collaboration," but I'm a hopeless optimist, so we'll stick with the latter.
Empathy. This year sucked. The election drove our country to levels of distrust and dangerous dialogue the likes of which I haven't seen in my lifetime. The virus crushed our economy and ruined lives, figuratively and literally. Homes and forests burned. Students fell behind. There were murder hornets.
Before you cast judgment, put yourself in someone else's shoes and take a stroll. We need empathy—or compassion, if that's more your speed—like we've never needed it before if we're ever going to rebuild trust in one another and in our political system.•
__________
Wagner is a lifelong Indianapolis resident and vice president of communications at EdChoice. Send comments to ibjedit@ibj.com.

Click here for more Forefront columns.
Please enable JavaScript to view this content.