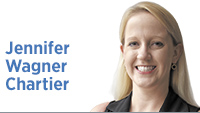 When I was in elementary school—not much older than my 8-year-old son—my parents and grandparents invested in a condo in a sleepy little town on the Gulf Coast of Florida.
We've been coming down here ever since. Even in the summertime, when it's too hot to go out during the day, it's an escape from our Indiana routine.
Yet at this moment in time, as I work remotely while looking out at the calm, blue sea, Florida presents a bizarre comparison to my home state.
The coronavirus pandemic has taken its toll on Indiana, with more than 45,000 cases and 2,500 deaths.
Plenty of Hoosiers were unhappy about shuttered restaurants and businesses, and we didn't jump for joy about wearing masks and staying 6 feet away from each other. But we did it. We flattened the curve, and, while the virus remains in our communities, it's nothing compared to what the Sunshine State is enduring.
Over the span of two weeks in late June, Florida's coronavirus cases spiked fivefold, a rise that was linked to the reopening of bars, beaches and social activities. The increase was so dramatic that some elected officials rolled back their reopening plans, prohibiting alcohol sales at bars and closing some of the most popular beaches.
Florida is not alone. South Carolina, Nevada and Texas also witnessed dramatic increases in coronavirus cases following their reopenings. In some areas, hospitals were once again at capacity, stretched thin to care for patients who require ventilators and round-the-clock monitoring.
Some government officials were quick to blame young people for spreading the virus once they were allowed to resume booze-soaked revelry in close contact with one another. Others, including President Trump, wrote off the surge because more testing was happening, a hypothesis that doesn't make sense if you look at positive test rates, which were rising, not the overall number of tests administered.
It's true that Indiana lacks sweeping swaths of sand and isn't known as a party destination, but it's clear we did something right. Was it waiting a little longer to open up, especially in densely packed urban areas? Was it closing down early? Coordinating with other Midwestern states?
As I look around Florida and the way people are responding, I'm going to credit good, old Hoosier common sense for our decline in cases and deaths.
Did we complain about the restrictions? Yes. Do we have our doubters of science? Plenty of them. But are we generally the kind of people who follow instructions and look out for one another? We are.
I can't say the same for sunny Florida, where there seems to be a near-defiance among those who don't believe the pandemic is still around and don't want to be told what to do.
Don't get me wrong: It's a lot better to work from the beach than the front porch, but we feel a little like strangers in a strange land with our masks and our constant hand-washing and our limited trips to the grocery.
It's unclear what will happen as the pandemic continues, but I sure am grateful to be from a state that seems to have responded pretty well so far.•
__________
Wagner is a lifelong Indianapolis resident and vice president of communications at EdChoice. Send comments to ibjedit@ibj.com.

Click here for more Forefront columns.
Please enable JavaScript to view this content.