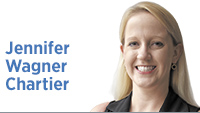 I recently found myself pulling mailing lists for something that needed to be sent to legislators in a couple of dozen states.
I started pulling the lists, and I noticed the platform I was using also had the option of including legislative staff. Why not reach out to them, too, I thought? Lawmakers are busy, and it never hurts to have a second set of eyes on something.
As I started putting those lists together, however, I noticed that, in quite a few states, my searches were returning no results at all. I knew some Legislatures didn't have a lot of professional staff; I hadn't realized some had none.
Back when I was a kid and people still mailed things, my mom was a big fan of sending letters to members of Congress to voice her concern over a particular topic. She stuck the clipped stack of responses on the fridge with a magnet. The paper often included fake gold leaf; in my eyes, they were shiny letters from very important people.
Years into the future, when I interned and later lived in D.C., I realized those letters were penned by college students or recent grads who were scrounging together entry-level wages to live in a tiny apartment with five of their closest friends and eat their meals on the reception circuit. But as they say, you gotta start somewhere, and those jobs typically lead to more responsibility, better pay and maybe an actual office with a door instead of a cramped cube. They aren't the most glamorous positions, but there is a lot of upward mobility.
It's also worth noting that members of Congress get more than one staffer. House members are capped at 18 permanent and four additional employees. Senators have no limits; some of the larger offices have dozens of staffers, including specialized policy experts, constituent services teams, schedulers and communications  professionals.
That's just not the case in most state legislative branches. I'd argue that needs to change.
Here in Indiana, my search netted 84 names for legislative staffers at the Statehouse to support 100 House members and 50 senators. Next door in Illinois, it was more of a one-to-one ratio of elected officials to staffers. In states like Kentucky, Montana and West Virginia, my searches came up empty.
There are those who would say our General Assembly is made up of part-time members who are only in legislative session three or four months out of the year. Why would citizen lawmakers need full-time staffers? Wouldn't it waste taxpayer dollars?
I'd say that makes the case for more full-time support. Elected officials aren't at the Statehouse most of the year, but it's not like constituents' needs cease when the gavel falls at the end of session.
Moreover, these staffers are stretched way too thinly. They answer phones, return emails, handle schedules, write letters and coordinate with other offices. In many cases, they wind up being de facto policy specialists. And in many states, including Indiana, they serve more than one lawmaker.
It's not a surprise that many of them don't stay long, taking their hard-earned experience to the many better-paying government-affairs jobs that exist outside the Statehouse. In the absence of full-time policy analysts and other professional staff inside the Statehouse, to whom are lawmakers supposed to turn when they need expert advice?
Yes, it will cost money to resolve this problem, but money spent supporting our elected officials to help them better serve their constituents is money well spent.•
__________
Wagner is a lifelong Indianapolis resident and owner of Mass Ave Public Relations. Send comments to ibjedit@ibj.com.

Click here for more Forefront columns.
Please enable JavaScript to view this content.