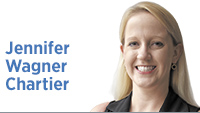 The national political landscape feels like one giant sea-to-shining-sea dumpster fire these days.
A venomous talk radio host who's mocked everything from sexual consent to police brutality to Parkinson's disease has received the Medal of Honor.
The speaker of the House ripped up the president's State of the Union speech on live television for dramatic effect.
Iowa forgot how to count, literally and politically.
It's clear we're not in Kansas anymore (just like the Chiefs never were).
And yet, there is hope, and it takes the form, as hope often does, of young people who can't even vote yet.
The best part of parenting, at least in my opinion, is when your kids are finally old enough to interact with you not just as dependent creatures who need another bowl of cereal, but as sentient beings with whom you can share your view of the world and from whom you can learn cool new things.
Last month, my sixth-grade daughter's class served as pages at the Statehouse. Instead of coming home tired and frustrated, as I often do when I visit that limestone palace, she came away from the experience invigorated.
Not only did all of the students get to meet their state senators, but they got to sit in the chamber and come up with legislation they'd like to see passed. My daughter's group wanted to bring back the passing period bell at school, but they were quickly overshadowed by a group that wanted frozen yogurt and lemonade every day during lunch. #FroYo2020. #LemonadeForAll.
But before their delicious vision could become the law of the middle school, there were lots of questions: How much will it cost? (They were told not to worry about cost, which I told my daughter was often the only thing that matters when legislators debate bills for real.) Where will the machines be located? Should it really be every day? What about people who have allergies to certain food additives?
After much debate in committee, the class settled on the distribution of organic treats every Wednesday.
The cool thing: No one had to kickstart the conversation or lecture about compromise, and they loved every minute of talking through an idea and coming up with a solution they thought would work well and could all agree on.
How is it possible that a group of 12-year-olds can handle disagreement and debate better than many of our adult elected officials in Washington? Easy. They didn't care who got credit or how the process unfolded. They didn't need talking points. There were no lobbyists. They just wanted to solve a problem. And they enjoyed working together to get there.
The issues that face our nation obviously are far more challenging than weekly treats in the cafeteria, but it's refreshing to know that common sense and logic can still prevail in politics. Apparently, all you have to do is enlist a gaggle of tweens.•
__________
Wagner is a lifelong Indianapolis resident and vice president of communications at EdChoice. Send comments to ibjedit@ibj.com.

Click here for more Forefront columns.
Please enable JavaScript to view this content.