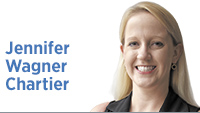 I am not writing this column to pick a fight.
This is not a column about COVID vaccines or why people choose to get vaccinated or not.
What I am trying—and mostly failing—to understand right now is why there are policymakers pushing a "vaccine status discrimination" bill at the Statehouse this session when we still don't have statewide protections for LGBTQ Hoosiers who routinely face harm because of who they are or who they love.
The bipartisan effort to update our nondiscrimination law to include sexual orientation and gender identity has been ongoing for years, with widespread support from faith leaders, local officials, grassroots advocates and the business community.
In the wake of Indiana's Religious Freedom Restoration Act debacle in 2015, more than 150 Indiana companies banded together to support including LGBTQ Hoosiers in the state's nondiscrimination law. The group included heavy hitters such as Cummins Inc., Eli Lilly and Co., Salesforce, Anthem, Roche and AT&T. Many of those same companies offered their support last year for the Equality Act, federal legislation that would offer civil rights protections to all LGBTQ Americans.
That's in stark contrast to the vaccine status issue, which has drawn criticism from Indiana's corporate community for potentially limiting businesses' ability to protect the health and safety of their employees and customers.
If the goal of our nondiscrimination laws is to protect those most vulnerable to harm, it's hard to put someone's ability to attend a concert in the same category as someone's ability to secure safe housing or obtain medical care.
A 2020 survey by the Center for American Progress found more than one in three LGBTQ Americans faced discrimination of some kind in the prior year, including more than three in five transgender Americans. Fifteen percent reported postponing or avoiding medical treatment due to discrimination, and more than half said they hide their personal relationships to avoid experiencing discrimination.
It's true that many Indiana cities and towns have adopted their own protections, and they should be commended. But LGBTQ Hoosiers must navigate that patchwork every time they leave home, placing the burden of discovery on those who most need to feel safe instead of relieving their fear.
That fear is a very real feeling many LGBTQ Hoosiers face as they live out their daily lives—and their entire lives. Protecting them under our state's existing nondiscrimination law isn't going to mitigate that fear overnight, but it offers legal recourse and sends a strong message that our state welcomes all, and we believe Hoosiers should be treated with respect and dignity regardless of their sexual orientation or gender identity.
If lawmakers are looking to tackle an important issue this session, I'd suggest this one should be at the top of their list.•
__________
Wagner is a lifelong Indianapolis resident and owner of Mass Ave Public Relations.

Click here for more Forefront columns.
Please enable JavaScript to view this content.