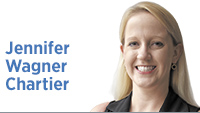 Does your dream job include begging for cash, making lots of enemies and clobbering Hoosiers with partisan political messages?
If you said yes to one or more of those, then you should embrace the opportunity of a lifetime—becoming the next Indiana Democratic Party state chair.
After eight years in the role, current Chairman John Zody recently announced he'd be stepping down when the position comes up for election in March. For the eight years prior to Zody taking the gavel, the party was led by Dan Parker, who served as its executive director for two years before becoming chairman.
It was my privilege to serve for a time as spokesperson for both of them, and I have a message for the folks out there who think they want the job: You probably don't.
The ink was barely dry on this year's election results when Democrats began turning on each other on social media and in the news. It was a night filled with promise that quickly turned into a nightmare after it became clear President Trump had long coattails and would win here by far more than the single digits some pollsters had predicted.
Democrats had been hoping to pick up enough seats to break the Republican supermajority in the Indiana House. Instead, the GOP gained four seats in that chamber. The hotly contested Fifth Congressional District race went red, despite national pundits' predictions. Oh, and Gov. Holcomb's reelection was called two minutes after the polls closed.
I would like to tell you that rebuilding the party—the clarion call following poor performance—is as simple as electing an eager new leader who pledges to visit all 92 counties and pay close attention to the party faithful.
But you'd still need someone to foot the bill for the gas.
We can debate whether it should be this way, but money makes the political world go 'round, and the next state chair will likely have an even more difficult time chasing donations than the prior two, especially as we head into a year with no elections.
Democrats need someone in the top job who can keep the lights on and spirits high while figuring out what comes next.
I'm not going to name names, but there were a few candidates this cycle who didn't win but showed a strong ability to fundraise. There also are folks from the party's past who might be able to step into the leadership role.
That doesn't mean we have to keep going back to find our way forward. There's palpable energy out there among new voters and younger Democrats, and they absolutely have to be at the table.
But if we ever hope to emerge from the wilderness, it's going to take someone at the top who understands you have to know when to hold 'em and when to fold 'em when it comes to picking candidates and campaigns.
I know there are those who say, "But the party should support every Democrat running for office!"
In theory, yes, but unless I missed something, we live in deeply red Indiana, and the places and races in which we can come up victorious are few and far between. Hence the requirement that a state chair be in it to win it, not to make friends.
My partisan days are long behind me, but I hope for the sake of the two-party system that Democrats find a bold, strategic leader who can raise money, say "no" when necessary and chart a course back to victory. It's not a fun job, but someone has to do it.•
__________
Wagner is a lifelong Indianapolis resident and vice president of communications at EdChoice. Send comments to ibjedit@ibj.com.

Click here for more Forefront columns.
Please enable JavaScript to view this content.