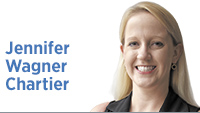 It goes without saying at this point in the pandemic that everyone could use a break.
For purposes of this column, I'm going to single out our National Guard members as one of our most underappreciated assets over the past 18 months.
Often categorized as "weekend warriors," the roughly 14,000 men and women in the Guard—among the five largest formations nationwide—have been anything but weekends-only since COVID took over our lives.
Early on, they were called up to help out at nursing homes across the state.
Then they were deployed to handle logistics at mass vaccination sites like the Indianapolis Motor Speedway.
Recently, as COVID cases have again overwhelmed hospitals, Guard personnel have been sent to large hospitals like Ascension St. Vincent to offer support.
Oh, and in the midst of the pandemic, they were sent to Washington, D.C., to help secure the U.S. Capitol complex following the events of Jan. 6 leading up to President Joe Biden's inauguration. Over the past month, they have been back home again in Indiana helping to welcome and relocate thousands of refugees—potential new citizens, I might add—who are coming to the United States following the end of our military presence in Afghanistan.
That's a lot for anyone, let alone these soldiers who signed up for part-time duty and also have families they care about and, in most cases, full-time jobs.
Short story: Let's all say thanks.
Let's also make sure we're highlighting the important work these Guard members are doing—and calling out those who seek to undermine that good work to further their own political agendas.
Yes, I'm talking about the recent fake news story generated by two local radio personalities who claimed to have inside knowledge from a Guard source that the aforementioned refugees at Camp Atterbury were engaging in dangerous behavior with serious national security implications.
I won't repeat those lies here, but it was a shining example of what happens when "someone I trust" becomes the standard for putting something out over the airwaves. (Worth noting, as local news sources who covered this "story" did, that the outrageous claims were never made on the radio station's news platform, but that's a tough delineation to explain to people who don't understand the ins and outs of journalism.)
Whatever the purpose of broadcasting this "news," the effect was swift: People were abuzz wondering about the safety of the area around Camp Atterbury. Are Hoosiers secure? What's being done to fix this? Why aren't they letting the media in to expose these awful conditions?
Meanwhile, all those Guard members just kept doing what they've been doing: their jobs.
And perhaps that's why this all felt so unfair. These part-time soldiers have been showing up for our communities for months and months, often as a critical line of defense against COVID.
They slept on marble floors at the Capitol, and they stood out under the hot sun to help administer vaccinations. They're committed to our state and to getting us through these tough times. They're doing their best—for us—and they don't deserve to have that hard work dragged through the mud.•
__________
Wagner is a lifelong Indianapolis resident and owner of Mass Ave Public Relations. Send comments to ibjedit@ibj.com.

Click here for more Forefront columns.
Please enable JavaScript to view this content.