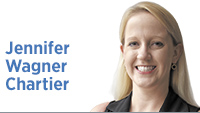 We're fast-approaching my least-favorite part of the legislative session: credit-claiming time.
Even though it's been a bit of a weird session, with testimony harder to deliver than ever before and a couple of weeks missing from the schedule, I can't imagine folks will spend any less time—both behind the scenes and publicly—proclaiming their victories.
Some of this is by necessity. Plenty of people make their living in advocacy, and bosses, clients and boards of directors expect return on their investment. But there's a fine line between reporting the facts and taking credit for the influence of others.
With respect to those who don't make their living at the Statehouse, it can feel downright gross.
I've overheard lobbyists talking about grassroots activists as though they are chattel to be handed a script and herded in and out of committee hearings. Need to show more support? Just dump more phone calls and emails into legislators' offices.
These persuasive tactics are important ways to communicate stories with elected officials, but we have to be mindful as advocates that those stories don't belong to us. They are on loan, and we should treat them—and those who choose to share them—with deference and respect.
When I think back over the past two decades I've been around Indiana politics and the Statehouse, there's one grassroots effort that sticks out to me as the most effective: the push to bring a casino to Orange County.
For more than a decade, Orange County residents came to the Statehouse clad in orange shirts with homemade signs asking the General Assembly and governor to grant them a license to build the so-called "boat in a moat" between the historic French Lick and West Baden hotels.
In 2003, they finally got their way, and the rest is history. As advocates said it would, the casino revitalized Orange County and brought millions into the local economy.
I'm not naive enough to think they didn't have support behind the scenes, but I'll never forget their orange shirts, their persistence and their commitment to the goal. They trudged up that highway year after year because they believed in their community.
Back in 2013 and 2014, I was fortunate to be part of Freedom Indiana, a statewide campaign organized to fight against a proposed constitutional amendment banning same-sex marriage. It was a massive, successful collaboration involving community, faith and business leaders, but personal stories were always at the center of our work. Brave Hoosiers came to the Statehouse week after week, dressed in the color red to symbolize love, to share how the proposed amendment would harm them, their families and our state.
I think of those orange and red shirts often, especially in these waning days of the session. They symbolize what we can accomplish when we work together.
John Donne wrote that, "No man is an island." Similarly, our Founding Fathers set up a political system where one person actually can't do it all. As we approach credit-claiming time, I hope everyone involved in this year's session will keep that in mind.
No one is advocating complete humility, but it would be nice if victories could be reframed ever-so-slightly. Instead of saying, "I did this thing," perhaps we could say, "This thing happened, and I was part of it."
And maybe, just maybe, that would make everyone feel better about the process overall.•
__________
Wagner is a lifelong Indianapolis resident and vice president of communications at EdChoice. Send comments to ibjedit@ibj.com.

Click here for more Forefront columns.
Please enable JavaScript to view this content.