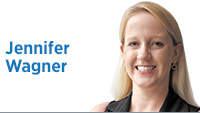 In the weeks after the 9/11 terrorist attacks, President George W. Bush called on Americans to return to their daily lives and go shopping.
"Get down to Disney World in Florida," he said.
Many criticized his statements as insensitive and fiscally irresponsible. Some wondered how a leader grappling with something so big and terrible could advocate for such simple-sounding solutions.
Reflecting on his statement in light of current events, I find strange solace in his advice.
We've been clobbered by a one-two punch.
For months, a virus has ravaged our health and our economy, leaving millions unemployed and more than 100,000 dead. States shut down and flattened the curve, but some economists are predicting we'll feel the effects of this pandemic for at least a decade to come.
Slowly, though, we were beginning to see signs of normalcy creep back into our daily lives: outdoor dining, more people willing to travel, socially distanced gatherings, schools potentially reopening in the fall.
But it didn't last.
The nation wasn't able to embrace cautious optimism about a return to quasi-normal. Instead, we watched a group of police officers in Minneapolis murder George Floyd, crushing him to death while he pleaded for life.
He was the latest in a long line of African American victims of police brutality, but his murder snapped the nation to attention—and action.
In cities across the country, nonviolent protesters took to the streets day after day demanding justice and highlighting racism, injustice and inequality. Some of those peaceful protests gave way to more violence and the destruction of property.
More lives and livelihoods were lost.
Blocks from my house, shops and eateries along Mass Ave were scheduled to reopen, but many were instead forced to board up their doors and windows. Some chose to open anyway, but their hours were cut short by city-imposed curfews aimed at preventing more violence. In the heart of downtown, damage to office buildings and businesses was extensive. People who had been looking forward to getting back to work suddenly couldn't.
Much like after the 9/11 attacks, there has been a prevailing sense of helplessness and fear.
And so I found myself thinking back to President Bush's advice.
Yes, there are big things we can and must do. We must continue to fight cruel systems that perpetuate inequality. We must call out racists and stand up as allies to those who need us most. We must keep a close eye on those with the most power, especially those backed by the government with the authority to use deadly force.
We must protest. We must vote.
But we also must do little things. For those who are financially able, that means going out to dinner at a local restaurant to help it stay afloat or moving up the timeline on a purchase or project to help stimulate our economic recovery. When safe, we should travel—yes, perhaps even to Disney World.
Doing these things does not diminish our anger or our sorrow over systemic oppression, and it will not help scientists find a coronavirus vaccine any faster. But it might help us inch away from helplessness toward something over which we can feel more control, and that ultimately will make us better advocates and allies.•
__________
Wagner is a lifelong Indianapolis resident and vice president of communications at EdChoice. Send comments to ibjedit@ibj.com.

Click here for more Forefront columns.
Please enable JavaScript to view this content.