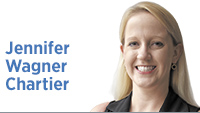 Look, I know this municipal election has been less interesting than a Caillou marathon on PBS.
And we all know the likely outcome—at least in the mayoral race.
But this is the last column I get to write before Election Day, so it's my last chance to remind you to get out there and cast your ballot.
Four years ago, Marion County had its lowest voter turnout in two decades—just a tick under 23%. Of roughly 660,000 registered voters, only about 150,000 of them bothered to show up at the polls.
Apparently the rest of those folks didn't give two hoots about infrastructure, criminal justice, local economic development, community improvement, public transportation or any of the other myriad things contained in or affected by the city's annual budget, which, if you didn't know, is more than $1 billion.
Of course, the very people who don't show up to vote the first week in November will be the same ones all over the comments section the first time their street isn't plowed during the winter or their sidewalk falls to pieces in the spring.
They will come up with pithy insults and funny nicknames for the decision-makers in City Hall. We might even see a hilarious new fake Twitter account or two. But will those who are upset with government actually show up when it counts?
Probably not.
You might wonder why a Democrat who lives in a county that's been trending Democratic the past few cycles and shows no signs of changing would be encouraging detractors to show up and vote.
Because it's good for democracy—with a small "d."
It's healthy for Democrats to disagree with each other. It's healthy for Democrats to have strong Republican opponents who can encourage debate even if they ultimately might not prevail. (I wrote the same thing months ago about the Indiana gubernatorial race, which leans Republican but deserves a strong Democratic contender.)
When politics becomes politics as usual, bad things happen, especially as media outlets that employ paid government watchdogs continue to cut their rosters. If we don't pay attention to who's elected and how they're spending more than a billion dollars per year, it's entirely possible that no one will.
So please, pretty please, I'm begging you to vote early or show up on Nov. 5 to cast your ballot in person. You'll feel better about your part in our political process, and they'll even give you a nifty sticker to wear.
It's not an interesting election. It's not an unpredictable election. But it's an election, and it deserves your attention. If nothing else, consider it practice for next year, when the stakes will be much, much higher.•
__________
Wagner is a lifelong Indianapolis resident and vice president of communications at EdChoice. Send comments to ibjedit@ibj.com.

Click here for more Forefront columns.
Please enable JavaScript to view this content.