With the eyes of the sporting world upon us for the NCAA Tournament, Indianapolis once again has proven itself to be the "best big game city in America."
Those are not my words, but rather the sentiments of ESPN's famed sports talk show host Mike Greenberg; he tweeted this rather bold, but bulls-eye opinion a few years ago after covering the Big Ten football championship game.
Even after all our successes and the accolades from those who come here, we've never lost the drive to reinforce our image as a welcoming, vibrant city.  Maybe it's just me, but I often wonder why these big events aren't always held in New York or Orlando or Chicago or Los Angeles.  But then I walk around downtown during a prominent game or convention weekend, and the answer becomes clear.
It's our volunteers and our walkability.  Our venues and our hospitality.  Our community and our civic leadership.  Our police and fire personnel and our small businesses.  Our customer service representatives and the crews from the Department of Public Works.
Unprecedented events, however, lead to unprecedented opportunities; our collective note of thanks goes to Gov. Eric Holcomb, Mayor Joe Hogsett, Ryan Vaughn of the Indiana Sports Corporation, Leonard Hoops of Visit Indy, Sherry Seiwert of Downtown Indy, and so many other people who pitched in to once again position Indianapolis to make history.
Through the years, Indianapolis, the State of Indiana, and its residents have enjoyed a business trifecta which has provided an amazing quality of place centered in Indianapolis. That quality has been supported by the citizens of this amazing state, businesses and the thousands of people who chose to attend the many conventions held every year in Indianapolis and leave their hard-earned money in all our hands.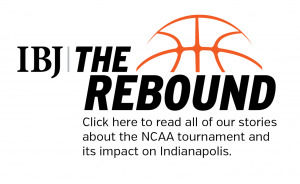 The pandemic has quickly shown just how important both corporate and convention business is to all of us. 
We can only hope that the tourism and economic activity generated by the tournament will serve as the foundation for a robust and sustained recovery for our city in general, but the hospitality industry specifically.
While not every closed restaurant or planned construction project will be brought back to life, our first priority should be to help and market the businesses that have managed to make it through the pandemic.
My family has owned and operated hotels in Indianapolis for more than fifty years.  We are proud to be a local company that has employed thousands of Hoosiers and hosted innumerable visitors.  Like so many other businesses and industries, we have suffered a significant financial impact due to the lockdowns initiated throughout the country.
We hoteliers welcome the business that the NCAA has brought but worry about what the future holds.  To use a metaphor many people are experiencing these days, the tournament was a shot in the arm, but does not inoculate us against continued losses.
As with many other decisions in our city's history, boldness is required.  The same leaders who came together, who put politics aside, and who represented the best interest of our state, need to continue this spirit of cooperation to forge a new and sustained plan to bring people back to Indianapolis.
For example, I applaud the city's recently renewed efforts to aid the homeless downtown (the majority of whom, clearly, suffer from mental health disorders).  As a 30-year reserve police officer in Indianapolis and downtown business owner, I have watched the struggle with homelessness worsen and grow over time, but recent city and outside collaborative efforts have yielded promising results. 
Additionally, the decision to continue with plans to expand the Convention Center is the right one and represents the forward thinking that made Indy a destination city.  In the coming years, we must strive to be more attractive to companies, conventions, and decision makers who will have no shortage of cities pining for attention.
In so many ways, and in ways that never could have been imagined decades ago, Indianapolis is both the model for, and the envy of, cities around the world.  To continue so will require the leadership of our beloved capital to have the courage and foresight to remain stable, but never stand still.
Jim Dora Jr. is president and CEO of General Hotels Corporation. He is also a reserve lieutenant on the Indianapolis Metropolitan Police Department.
Please enable JavaScript to view this content.