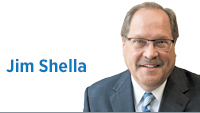 Thanksgiving is coming, and most of us will sit around a table with family and friends, maybe for the first time in a couple of years. There will be lots of conversation. We will all be warned to avoid talking about religion and politics.
Because I need to get that out of my system in advance, and because there is one topic that encompasses both of those topics, I am here to talk about Joe Biden and communion. Should the president be denied communion?
First, let's start with a story from my childhood. Sunday church was mandatory in the home where I grew up. The seven Shella kids would accompany my mother and father every week, filling up an entire pew in the Lutheran church in our hometown.
On the first Sunday of each month, there was communion. My father would always remain in his seat as the rest of us went to the front of the church to receive a wafer and a sip of wine. He was just as Lutheran as the rest of us, confirmed in the church, and a big donor. I didn't understand.
One day, I asked my mother why. She said my grandmother had told my dad he didn't deserve communion and should refrain from taking part. Why? I don't know, and my mother wouldn't tell me. I left it there.
But I never understood.
See, communion is a reminder that Jesus died for our sins. All of our sins. It's about forgiveness. Webster defines it as, "A Christian sacrament in which consecrated bread and wine are consumed as memorials of Christ's death."
Why, I thought, should anyone be denied forgiveness, no matter what the sin?
And now I read that Grandma Shella had something in common with the U.S. Conference of Catholic Bishops. It has voted to write new rules for the distribution of communion because of Biden. They think he should do what my father did and stay in the pew when everyone else receives the Eucharist.
Biden is not about to take this sitting down, and the bishop in Washington, D.C., who actually determines whether the president takes part or not says he can take communion. Nevertheless, Biden took his case to the pope in a private meeting recently and emerged to inform all of us that Pope Francis said he is a "good Catholic" and should keep receiving communion. Abortion didn't come up in the meeting, according to Biden. The Vatican was silent.
But that's not the end of it. Bishops are still working on new rules, and my perspective is that this has nothing to do with religion. It's all about politics.
Consider that no one ever gets turned away at the communion rail, no matter the denomination. My dad chose to abstain.
I have attended Mass in Catholic churches for a variety of reasons, and I always take part in communion. Even though that's against the rules, I have never been questioned. There is also a rule against receiving communion if you have committed a "grave sin." Whatever that is.
The point is, this didn't even come up until Biden was elected president. He's been Catholic his whole life, a politician for most of it. He takes communion.
The bishops saw opportunity and ran with it while hiding behind church rules.
I think church leaders should stick to religion.
Leave politics to the rest of us.
Happy Thanksgiving.•
__________
Shella hosted WFYI's "Indiana Week in Review" for 25 years and covered Indiana politics for WISH-TV for more than three decades. Send comments to ibjedit@ibj.com.

Click here for more Forefront columns.
Please enable JavaScript to view this content.