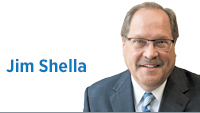 "We just need a few more people to die."
That's the way a pastor friend of mine used to react to a bitter battle over the acceptance of gay ministers in our church denomination, the Evangelical Lutheran Church in America, also known as the ELCA. As you might guess, he was in support of LGBTQ inclusion.
That battle led to street demonstrations in downtown Indianapolis during a national church convention held here several years ago. Ultimately, gay ministers won acceptance in the ELCA.
My friend was being facetious, of course, while also pointing out that LGBTQ inclusion is largely a generational issue. It comes naturally to a majority of millennials, while baby boomers are more likely to be homophobic or judgmental.
However, another reality is that millennials are less likely to attend church on a regular basis and less likely to contribute money in significant ways, and so, it is the boomers who get disproportionate input into church policy.
Now we see the United Methodist Church on a course to becoming the Divided Methodist Church—two denominations instead of one. The first would embrace inclusion, the other would not. Currently the church rule book says "the practice of homosexuality is incompatible with Christian teaching."
The congregation at St. Luke's United Methodist on the north side of Indianapolis led by Rev. Rob Fuquay has been among those pushing for LGBTQ inclusion. The church website says, "We place high value on diversity."
At the funeral service for the late U.S. Sen. Richard Lugar last year, Rev. Fuquay made a point of spelling out the St. Luke's philosophy with two notable opponents of gay marriage, Senate Majority Leader Mitch McConnell and Vice President Mike Pence, sitting in the front row. No fear of conflict there.
Yet you can anticipate that a split will cause changes for inclusive congregations in both membership and giving, changes that may be unpredictable and likely negative, at least in the short term. That's what happened at my church.
Churches should be places where love in all its forms is encouraged, in my view. Yet experience tells me that people who believe the Lord is on their side often act in less than godly ways. I served two terms as the president of my church council several years ago and found that church politics can be more difficult to navigate than partisan politics. I was the target of yelling and anger in council meetings that go far beyond how I was ever treated on the job.
And we have seen other examples of religious intolerance that includes a teacher in a Catholic school being fired for getting legally married to a same sex partner.
Yet, there is light at the end of the tunnel. Former South Bend Mayor Pete Buttigieg has won surprising levels of support in both polling results and fundraising in his bid to become the first openly gay nominee for president. Three members of the Indianapolis City County Council are openly gay.
Gallup polls found that in 1997, only 27% of respondents were in favor of gay marriage in this country. Now 63% approve. Currently 72% believe that gays and lesbians should be hired for jobs in the clergy. That compares to 36% in 1977.
America is changing rapidly and I predict church organizations will catch up at some point—without an increase in the death rate.•
__________
Shella hosted WFYI's "Indiana Week in Review" for 25 years and covered Indiana politics for WISH-TV for more than three decades. Send comments to ibjedit@ibj.com.

Click here for more Forefront columns.
Please enable JavaScript to view this content.