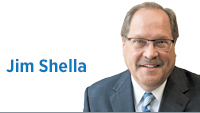 When you go to a Colts game at Lucas Oil Stadium, you get to see fun promotions during timeout periods. There's a dance contest, a game where a fan tries to throw a football into a trash truck, and one where contestants can guess statistics to win, according to the stadium announcer, "Jim Irsay's money."
I've always been a little irked by the use of that phrase because, as a season-ticket buyer, some of that money used to be mine.
I don't begrudge a fellow fan winning some of it, but I do question how Mr. Irsay, as his employees call him, has been spending the rest of his money of late.
The Colts have been mismanaged the last several years and, in particular, in 2022. Coaches, players and the general manager get blamed, but it's easy to see that Irsay plays a bigger role in decision-making now than he did when Bill Polian, as team president, was running an organization that went to two Super Bowls. Oh, and Irsay fired Polian, by the way.
Big money was spent this year to bring in two experienced quarterbacks, Matt Ryan and Nick Foles, and both failed. Miserably. The offensive coordinator was fired and never replaced. The head coach, Frank Reich, was given a contract extension and then fired over the phone weeks later. An interim coach, Jeff Saturday, was placed in a position where he was doomed to failure. The team lost games frequently and in spectacular and memorable ways.
This comes on the heels of high expectations built up by Irsay himself. He promised multiple Super Bowls even after the departure of superstars Peyton Manning and Andrew Luck. During training camp, we were led to believe that the 2022 season could lead to a championship. The reality is that the Colts haven't won a playoff game since the 2018 season. And Irsay, who likes to photo-bomb locker room victory celebrations, has been out of sight.
My interest in this has to do with more than just being a fan. I became a season-ticket holder the year the Colts moved to Indianapolis. For the first five years or so, I would pay a buddy who bought a pair of tickets we shared. Then, we decided to each buy two seats so our sons could come to the games with us. My friend dropped out a few years ago, but I have been buying season tickets for 39 years. That's a lot of my money becoming Jim Irsay's money.
For a time, in the 1990s, I even wrote a column in the now-defunct Colts fan club tabloid, known as Hoofbeats. It's the publication that launched Jersey Johnny's career. I wrote the column under a pseudonym, "Clete Marx." It was called "Cheap Shots from the Cheap Seats."
I don't think I'm taking cheap shots now, however. The Colts have a taxpayer-funded stadium and, as a community asset, need to thrive. At the last game, I was surrounded by empty seats, and the fans were so bored they began doing the wave at one point. It took me back to the '80s when Jim Irsay's dad was calling the shots and the team was terrible.
I spell all of this out to simply say promotional contestants at games in 2023 won't get any of my money. I'm loyal but not blindly loyal. The Colts need to earn back my season-ticket investment.•
____________
Shella hosted WFYI's "Indiana Week in Review" for 25 years and covered Indiana politics for WISH-TV for more than three decades. Send comments to ibjedit@ibj.com.

Click here for more Forefront columns.
Please enable JavaScript to view this content.