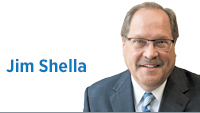 I didn't have a column in this space last month. Maybe you noticed. But if you didn't, I can live with that, because the reason for my absence is that I went on a European vacation.
My wife and I, along with a group of friends, traveled to four countries over 18 days. My expectation was that I would see lots of history, and we did.
Medieval castles, ancient cathedrals and museums were the subject of guided tours. We saw cities paved in cobblestones, open-air markets and even a World War II battlefield.
But I also feel like I got a look at the future.
That's because the Europeans seem to embrace technology in ways we don't. Servers in restaurants come to the table with hand-held computers that print instant receipts. Your credit card never leaves your hand.
Turnstiles at museums and other places allow entry when tapped by a credit or debit card. The customs process was much more efficient, because the kiosks in Europe were more user-friendly than the ones in America.
We toured the European Parliament in Strasbourg, France, and saw interactive displays that help the public follow lawmakers and their actions.
In Holland, where windmills and canals were used to reclaim land, we were told the windmills are now relics. Instead, computer-operated pumps are used to control the water level. It's technology that is being shared with coastal areas in the United States as we all deal with climate change.
Yet it's the way people get around that was the most eye-opening. Even small cities have mass transit. Electric trains pass by on a regular basis, and they are full even on a Sunday afternoon.
Bicycles are everywhere. In Lucerne, Switzerland, we saw two-story bike racks where people parked outside the train station. But that was nothing compared to Amsterdam, where there is a parking garage near the city center with four levels for bicycles only. Not just bicycles, but e-bikes, mopeds and scooters are everywhere.
And then there is Zermatt, Switzerland. Our tour group arrived there in a 10-person van that was forced to stop at the city limits. That's because no internal-combustion engines are permitted in Zermatt. We had to transfer our luggage to two small electric taxis for the ride to our hotel.
Zermatt, a small city in the Alps at the base of the Matterhorn, banned internal-combustion engines in the early 1980s. Now, all you see are electric vehicles. That includes ambulances, garbage trucks and buses.
It leads me to believe that, while I can't envision a ban on gas engines here, electric vehicles will someday dominate the auto scene in America. I came home to see that Ford now has an electric pickup truck. Chevrolet is doing TV ads that show how a technician will come to your home and set up the charging station if you buy an EV. And gas prices are giving motivation to consumers and manufacturers alike to find cheaper alternatives to gas. I just saw a Facebook post from a friend who purchased his first EV. The message from Zermatt is not only that it can be done, but also that the result is a cleaner, quieter environment.
And all of this gets me to a final series of questions: What will happen to the Indianapolis 500 when the cars are electric? Will pit stops still be required?
If not, can Scott Dixon finally win his second race?•
__________
Shella hosted WFYI's "Indiana Week in Review" for 25 years and covered Indiana politics for WISH-TV for more than three decades. Send comments to ibjedit@ibj.com.

Click here for more Forefront columns.
Please enable JavaScript to view this content.