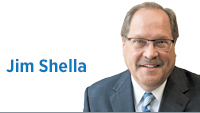 I just ran up to the corner pharmacy to carry out a quick errand. After a long wait behind a single customer, I walked up to a clerk I had not seen before and made a simple request. "I would like to pick up some photo prints," I said.
"What size?" Came the response.
"I don't know; they're for my fiancé."
At that, the clerk rolled her eyes and looked for a moment like she was about to say she couldn't help me. She then muttered that she would begin looking in the "easiest" place. I refrained from telling her that I was sorry to make her actually perform a clerk's function while she found my order in the first place she looked. It took seconds.
I paid for the purchase and, while she and I both waited for the receipt to print out (and I waited for some sign that she appreciated my business), her attention instead turned to the screen on her iPhone that was lying on the counter next to the register. She was done with me.
I am sometimes tempted to say customer service is a thing of the past. But that's not true. There are numerous examples of how good customer service has led to economic success.
Take Jiffy Lube. That same afternoon, I went to Jiffy Lube to get an oil change. Based on my pharmacy experience, I decided to time my visit. My oil was changed, my tire pressure checked, and I was out of there in less than seven minutes. I know I waited in line longer than that for the opportunity to be insulted on my previous stop.
Chick-fil-A demonstrates every day that good worker training that leads to good customer service is a winning combination.
The folks who work at Crew Car Wash wear me out with their constant attempts to upsell, but they are always pleasant and efficient. It brings me back.
Amazon is blamed for putting brick-and-mortar stores out of business, but it's happening only because Amazon does an amazing job at customer service. It can be done online, too.
What grates on me more than anything are store employees who disregard the customer. When I go to the grocery store now, I have to compete with store employees pushing oversized carts. They are filling online orders for delivery or pickup. That's fine. But often, they block the aisle or step in front of me or other customers, completely unaware that they are making it more difficult for us to spend money at their establishment.
During this pandemic, I have tried to take my business to stores that show the most concern for customer safety. Target, where an employee disinfects every cart before handing it to a customer, is a good example.
And, speaking of COVID, I know someone is going to read this and assume the clerk in the pharmacy is a displaced worker, a casualty of the COVID economy, who is stuck in a job beneath her previous station in life, someone who has a right to be unhappy. Maybe.
I don't care.
You might also read this and think it sounds like one of those crabby old essays from Andy Rooney.
I always wanted to grow up to be like Andy Rooney.•
__________
Shella hosted WFYI's "Indiana Week in Review" for 25 years and covered Indiana politics for WISH-TV for more than three decades. Send comments to ibjedit@ibj.com.

Click here for more Forefront columns.
Please enable JavaScript to view this content.