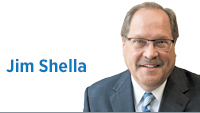 By now, you have probably heard all you want to hear about the 20th anniversary of 9/11, but my story is different from most, so I still want to tell it.
During 40 years in the news business, I was never so far removed as I was from the terrorist attack in 2001, possibly the biggest story of our time.
I was in Scotland on vacation.
I arrived in Glasgow on Sept. 9 to join my late wife Connie, who was wrapping up a work assignment. Her vacation started on the morning of the 11th. We hit the road in our rental car and were riding through the Scottish countryside listening to a CD of bagpipe music when we decided to stop at a small woolen shop. Inside, I could hear a radio, but only faintly, and I picked up the words "attack on New York." When we returned to the car, I dialed up the BBC and we began hearing reports that one tower at the World Trade Center was down and a second appeared ready to fall. I was in disbelief.
Not knowing what else to do, we continued to our planned destination, Stirling Castle, and took a tour. Once back in the car, we got a message: vacation over. Connie was to return to Glasgow and move to new accommodations, so she could be accounted for along with the rest of her colleagues.
Back home, the people I worked with were on the job around the clock, some of them traveling to Ground Zero, others reporting on evacuations of government buildings in downtown Indianapolis. I was helpless, sitting in a hotel lobby where the front of a cigarette machine was covered by a photo of the Twin Towers.
A year later, I got my opportunity to take part in the 9/11 coverage by reporting on the reconstruction of the Pentagon, and this turned out to be even more bizarre.
Indiana limestone was being used to rebuild the wall damaged by the terrorist attack, and photographer Jim Hester and I were at the Pentagon to document the restoration as the work was wrapping up.
Our goal was to interview someone from Indiana who was inside the building when the attack took place. Kevin Kellems was our guy. A southern Indiana native, the former aide to Sen. Richard Lugar was a top staffer for Paul Wolfowitz, the deputy secretary of defense. We asked if we could interview him in front of the new wall, and he quickly led us there through an interior door.
Jim and I didn't realize it was a secure area that required clearance through an entrance in the parking lot. And so, when we concluded the interview, we were confronted by a man in uniform with a semi-automatic weapon drawn in our direction. He was polite enough to avoid interrupting us while the camera was rolling but we were ordered to leave, as was Kellems, who tried unsuccessfully to convince the enforcer that he didn't need clearance.
There is a happy ending. We were back a week later to present live reports on the first anniversary of 9/11 with no backlash.
Through it all, I will remember the reaction of the Scottish people who recognized our American accents on Sept. 12. There were two major feelings expressed. First was sympathy. The second was matter-of-fact: "Welcome to the world of terrorism."
Twenty years later, we are still there, with concerns over a new attack following the fall of Afghanistan.•
__________
Shella hosted WFYI's "Indiana Week in Review" for 25 years and covered Indiana politics for WISH-TV for more than three decades. Send comments to ibjedit@ibj.com.

Click here for more Forefront columns.
Please enable JavaScript to view this content.