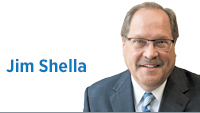 What's a parlay?
I ask because that term suddenly is part of the parlance on sports talk radio and in television commercials that are impossible to escape. I hear it from JB Smoove and Dan Dakich. It seems everybody in Indiana is supposed to know the answer to that question. I didn't.
So, I decided, for the sake of this column, to find out. A parlay, my research found, is a wager where the original amount and its winnings are used in a subsequent bet. Multiple bets may be combined in subsequent bets. The idea is to turn small wagers into potentially large payouts. Oh, and to encourage more small bets and increase profits for people who collect the cash.
All the talk about parlays is the result of the legalization of sports betting in Indiana. It's also why we hear from sportscasters if a winning team covered the spread or not, (that's the predicted margin of victory) or if the total score was over or under the predicted total.
Yes, you can now legally place a bet on your phone. No need to go to a casino, a horse track or an off-track-betting facility. Just go to the app on your iPhone and take a risk.
The progression of legalized gambling in this state has taken a head-first dive down the slippery slope opponents warned about when a state lottery was first debated in the General Assembly in the late '80s.
It went like this: There came the lottery, then riverboat gambling and legalized betting on horse races. The riverboats were a way to sanitize unsavory activity. Boats were required to sail in Lake Michigan or the Ohio River. Over time, casino owners won the ability to keep the boats docked, allowing gamblers to stay longer and spend more. Then, approval was granted to build on-shore casinos. Eventually, casinos were permitted at the horse tracks in Anderson and Shelbyville. Now, one is coming to Terre Haute.
But attempts to bring casino gambling to Indianapolis continue to be rejected. It's not the image we want to portray in our capital city. That is the prevailing argument.
With sports betting, there is gambling on every corner and in many households, and there is even a sportsbook inside Lucas Oil Stadium.
I am a longtime Colts season-ticket holder. For the first time, I was offered a discount on my tickets for 2022 if I started a membership with a sports-betting enterprise.
But it's not just Indiana. Sports gambling is a national phenomenon fueled by support from professional sports leagues, including the NHL, NBA and NFL.
I remember when NFL stars Paul Hornung and Alex Karas were suspended for gambling. I read about the Black Sox scandal, which tarnished baseball when players threw a World Series to benefit gamblers. Sports and gambling did not mix in the era when I grew up—not out in the open.
Now you can't get away from it.
And that's why I believe it's time for a casino in Indianapolis. In fact, there is no logical argument against one anymore, unless you own a casino in Shelbyville and fear the competition.
Why should a guy like me, who plays an occasional slot machine, have to take a road trip to do so? Better yet, why not gather up the tax money from wagers by visitors to the downtown conventions and huge sporting events we stage regularly?
It would be a way to parlay that investment.•
__________
Shella hosted WFYI's "Indiana Week in Review" for 25 years and covered Indiana politics for WISH-TV for more than three decades. Send comments to ibjedit@ibj.com.

Click here for more Forefront columns.
Please enable JavaScript to view this content.