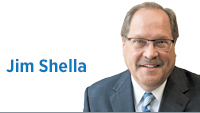 Thirty years ago, I returned from vacation one Monday morning to what I thought would be a normal day of work. Instead, I was summoned to the corner office at WISH-TV Channel 8, where I served as political reporter. There, I was presented with what I believe was the opportunity of a lifetime.
My bosses made a deal with the people who run PBS affiliate WFYI-TV Channel 20 and WFYI-FM 90.1 for me to host "Indiana Week in Review." All I had to do was say yes. I didn't hesitate.
Suddenly, I had two jobs.
"Indiana Week in Review" was off the air at the time, the result of a dispute between station management and the original host, who, it turns out, was fired after I said yes.
IWIR, as it became known behind the scenes, was originally a radio program and, while it had become a TV show before I arrived, it still had a radio format.
With the help of Director Dave Stoelk, I created a format that incorporated video clips of news events, sound bites from politicians, and graphics, and turned it into a bona-fide TV program.
For that reason, some of us are ignoring the program's early, tumultuous history and celebrating a 30th anniversary this year.
Never mind that I retired a little over four years ago. Brandon Smith is now the host, and the show continues to be a great source of information about Indiana politics and public policy. Democrat Ann DeLaney and journalist Jon Schwantes have been there the whole time.
We are in a state where the civic literacy index is deemed low, voter turnout is disappointing, and "Indiana Week in Review" is a trusted source for information that the public needs.
The format built around a host, a Republican, a Democrat and two journalists is time-tested. The fact that panel members sometimes raise their voices is something I always thought was instructive. I enjoy emotional displays.
It turns out that public broadcasting fans, who are used to reasoned discussion on shows like "All Things Considered," are not so fond of vocal exchanges. I took many a phone call to that effect.
What the audience doesn't know is just how much fun we have. We used to pick a word, some off-the wall-term, and see who could work it into an answer without sounding absurd. The winner would get a dollar from everyone else on the panel.
We always had a "no notes, no props" rule. Yet there was the time when Republican Rex Early wrote the names of candidates in a crowded GOP primary field on his hand so as not to forget. When he tried to reference his notes, he found that sweaty palms made the ink smear; the notes were illegible.
Republican Mike McDaniel once added the name of his intern to the list of primary contenders in a GOP race. When I challenged whether that name belonged to a legitimate candidate, he admitted that the kid promised to mow his lawn if he got mentioned on TV.
Combatants in front of the camera became friends in real life, and now we all socialize together on occasion.
The late U.S. Sen. Eugene McCarthy once compared politics to football. He said, "You have to be smart enough to understand the game, yet dumb enough to think it's important."
He was joking about the second part. It is important. Yet you do have to be smart enough to understand it. "Indiana Week in Review" can help.
Please support the show and public broadcasting.•

Click here for more Forefront columns.
Please enable JavaScript to view this content.