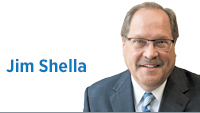 I went to a luncheon recently where I was seated next to someone I did not know. When this gentleman asked what I do for a living, I said I am a retired journalist.
"Journalism is dead," was his immediate response.
Oh, I love a conversation starter, and that tripped a trigger with me.
See, journalism is definitely going through a crisis, and a period of transition maybe, but it is not dead. And we all better hope that remains the case.
"Democracy dies in darkness," as it says on The Washington Post masthead, and journalism is the sunlight necessary to hold leaders and institutions accountable.
Yet it is hard to ignore the recent cutbacks at The Indianapolis Star and their effects. The Star recently said goodbye to several reporters in the most recent wave of layoffs ordered by its owner, the newspaper conglomerate Gannett. Among those departing is metro columnist James Briggs.
The Star used to be the best place to turn to find out what's going on in Indianapolis and Indiana. It had the biggest reporting staff and the budget necessary to lead the way on coverage of sports, arts, crime, government and politics. If it got beat on a story, it caught up.
Now, sports scores are published two days after the game. News headlines are sometimes out of date by close to 48 hours. Newspaper delivery is unpredictable and unreliable. Society is moving on, and the newspaper can't keep up.
TV stations have also cut back, and every news outlet uses the internet to distribute its product in an environment that focuses on headlines rather than substance.
The good news is that there are new alternatives available and more on the way. And there is every reason to believe they will produce meaningful journalism.
The Indiana Capital Chronicle is an example. Niki Kelly, the former Statehouse bureau chief for The Journal Gazette in Fort Wayne, is leading a new effort by four journalists to cover government and politics on a website at Indianacapitalchronicle.com. It's part of a not-for-profit called States Newsroom based in Chapel Hill, North Carolina, that now operates websites in 32 states. It includes commentary, editorials and daily coverage. It is available free, but donations are encouraged.
Howey Politics, a weekly newsletter operated by Brian Howey for decades, was recently sold to State Affairs, based in New York City. It has hired a pair of journalists, signaling that it has plans to beef up the reporting and the audience at an outlet that has been previously aimed at political insiders. State Affairs promises to produce investigative reporting as well.
Coming soon is Axios Indiana. Maybe you've seen the Axios TV show on HBO. That organization now has plans to create a daily newsletter in every state and will launch a product here early next year.
(You can already find extensive coverage of Indiana sports teams at the Athletic.com.)
These new outlets might compete, but they will also complement one another. And while being a news consumer is tougher than it used to be, with the need to visit multiple websites and potentially pay multiple subscriptions, it is clear the public wants news coverage. And through new business models, reporters can supply it.
As an aside, look at CNN. The cable network is under new leadership and is turning away from opinion shows with a liberal slant and back to more serious news coverage.
Journalism is not dead. Just maybe, it's experiencing a much-needed reboot.•
__________
Shella hosted WFYI's "Indiana Week in Review" for 25 years and covered Indiana politics for WISH-TV for more than three decades. Send comments to ibjedit@ibj.com.

Click here for more Forefront columns.
Please enable JavaScript to view this content.