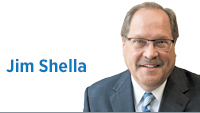 Have you, like me, spent time recently watching the live coverage of the murder trial of Alex Murdaugh in South Carolina?
It's compelling TV but also an opportunity for the public to see how the justice system works. And how it doesn't.
I think that's valuable.
Cameras in the courtroom are commonplace in most of the country. But not Indiana, although that is changing.
Beginning in May, trial-court judges in this state will be allowed to permit cameras when the media requests coverage of a trial. It's a pilot program authorized by the Indiana Supreme Court. It's also the latest step in a slow-moving process that started more than four decades ago.
I'll get back to that, but first, let's address the ongoing arguments against cameras in court. Will lawyers act out for the benefit of the camera? Maybe, but they do that now when they know reporters are present.
Opponents argue that a camera violates the privacy of victims, witnesses and defendants. All of those people now have their privacy violated in hallway media crushes as they enter and exit the courtroom. Defendants are photographed in handcuffs and leg irons in back hallways. It's disruption that will go away once the media is permitted to tell stories using videotape of courtroom scenes.
Modern cameras are silent and small enough that trial participants will forget they are being recorded. Opponents who talk of a chilling effect on witnesses, I predict, will have a hard time proving it.
I worked in Iowa in 1979 when that state began a cameras-in-the-courtroom pilot program that became permanent. 1979.
It was an instant success. All the reporters, print and broadcast, would watch the trial from a media room rather than the courtroom because you could eat, smoke, talk and go to the bathroom. By that alone, courtroom decorum was enhanced.
One courtroom in each county was wired for electronics, and that's where all the TV trials went. On one occasion, the father of a defendant, a prominent dentist, slapped the camera away. He got a warning from the judge, and everything went smoothly from there. It bore no resemblance to media scuffles I've witnessed in courthouse hallways.
In the early 1980s, Indiana was poised to join Iowa and other states in the movement to open the judicial branch to wider public view. Then an Indianapolis TV station aired video of the Indiana Supreme Court in session, video shot through a transom in violation of existing rules.
That led the justices to call off the test. Not long after, the trial of O.J. Simpson soured the legal community on the whole concept of broadcast justice.
It created a gap between Indiana judges and the media that was only recently bridged.
Five judges in Lake, Tippecanoe, Delaware, Allen and Vanderburgh counties took part in a four-month test of cameras in the courtroom that ended early last year. That led to the order that will permit cameras starting in May.
For the most part, judges don't like cameras in the courtroom, but it's worth noting that cameras have been permitted in the Indiana Supreme Court chamber since 1996. And the U.S. Supreme Court recently began permitting live audio feeds of the arguments it hears. Cameras are the next step.
Judges need to be encouraged to take part in the Indiana pilot project. And the media needs to act responsibly so that the project will become permanent.
It's our government. We should be able to see how it operates.•
__________
Shella hosted WFYI's "Indiana Week in Review" for 25 years and covered Indiana politics for WISH-TV for more than three decades. Send comments to ibjedit@ibj.com.

Click here for more Forefront columns.
Please enable JavaScript to view this content.