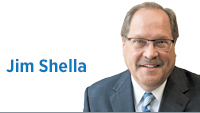 The House Select Committee to Investigate the January 6th Attack on the United States Capitol should recommend criminal charges against Donald Trump. That's the conclusion made by U.S. Rep. Andre Carson during a town hall meeting with 7th District voters.
I moderated that event, which aired on public television a few weeks ago. It was sponsored by the not-for-profit Indiana Town Halls and covered a wide range of issues. However, the comments regarding the investigation into the Capitol insurrection were by far the most interesting.
As a follow-up question, I asked Carson, an Indianapolis Democrat, what would be the appropriate charges to level against the former Republican president.
"Treason, or sedition," was the response. I, for one, was surprised by it.
In the time since, participants in the insurrection have actually been charged with those crimes.
And now, we hear that White House phone records turned over to the Jan. 6 Committee include a 7-1/2-hour gap on the day of the riot. That's a new world record.
A gap in phone records of a little over 18 minutes was enough to chase Richard Nixon from office in the 1970s. The Trump gap is 25 times as long. Does that mean he is 25 times as culpable? Twenty-five times as brazen? Twenty-five times as vulnerable?
An old friend of mine likes to say that 99% of what goes on in politics is exactly as it appears—and this looks like a criminal cover-up.
Keep in mind that Nixon was accused of trying to rig the 1972 election before it took place. Trump is accused of trying to change the results after ballots were cast. They are both crimes against democracy, though in my book what Trump did is much more serious.
There are other records that matter, too. They include communication between Ginni Thomas and White House Chief of Staff Mark Meadows. And some of those are being concealed. The wife of Supreme Court Justice Clarence Thomas was actively working to overturn the 2020 election and attended the Jan. 6 rally. She's a private citizen, but it's a problem because her husband voted against the release of those records to the committee. Somebody tell me how that's not a conflict of interest.
Yes, the U.S. Supreme Court is now tied up in the corruption Trump spread throughout Washington.
And John Eastman, the attorney who drafted a Trump plan to declare the election results invalid, was once a Supreme Court clerk for Thomas. A federal judge in California recently said evidence suggests Trump and Eastman committed felonies.
So, where is the Justice Department on all of this?
Attorney General Merrick Garland is the one who can bring charges. Is he waiting for a recommendation? Is he reluctant to indict a former president? Is he still conducting his own investigation?
Justice takes time, and I'm willing to wait.
When Carson called for charges of treason and sedition in February, it might have seemed premature and partisan. As time goes on, it looks more and more like those charges are warranted.
By the way, journalist Bob Woodward, one of the guys got much of the credit for uncovering Nixon's misdeeds, is now the guy who reported the seven-hour gap in phone records.
I'm one of a large number of baby boomers who went into journalism because of Watergate. I would love to see history repeat itself, with Woodward playing a key role as a corrupt leader is brought to justice followed by a resurgence in investigative reporting.•
__________
Shella hosted WFYI's "Indiana Week in Review" for 25 years and covered Indiana politics for WISH-TV for more than three decades. Send comments to ibjedit@ibj.com.

Click here for more Forefront columns.
Please enable JavaScript to view this content.