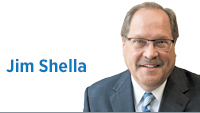 When I saw the news that the Peapod online grocery would discontinue delivery in Indianapolis, I took it personally. I recently became a regular customer, the kind who told all his friends about a terrific service I stumbled upon when life threw me a curve.
You see, last fall I suddenly found myself with impaired vision—the result of a detached retina in one eye and then a serious injury to the other. I was unable to drive to the grocery store or anywhere else.
That's when I discovered Peapod and learned I could order anything I needed for the kitchen from a website and have it delivered to my home the next day. Research informed me the company had been around for decades.
And then it went away.
But the reason it went away is because there are newer, better options, including Instacart. It will deliver groceries on the same day. I'm now an Instacart customer.
I'm also a believer in Amazon. I learned that I can get pretty much anything else I need delivered, too. That includes the little kerosene blocks I use to ignite wood in my fireplace, something I could find in only one local store. Even fuel for my snowblower was delivered to my front door in tin cans inside a cardboard box.
I understand that Amazon is putting brick-and-mortar stores out of business, but I can't always get to them at the moment.
Before this predicament, I had never used a ride-hailing service. Now I'm a regular on both Lyft and Uber. They are cheaper and more efficient than a taxi, but you probably knew that. And every trip is a cultural experience. Drivers range from the retired air traffic controller who gave me a ride in his Tesla, to the recent immigrant from India who ran off the road on a small curve. He was not a good driver, but I got home safely.
I share all of this to make the point that technology has improved all our lives. It happens in ways we sometimes take for granted or fail to notice.
Until now, I never really appreciated how my iPhone and iPad have a zoom function that lets me expand the font on things that are otherwise difficult to read. And Siri will take dictation, send texts, make calls, and even read emails to me. She does internet research, too. How did we survive without smartphones?
I have doctors who were reluctant to switch over to digital medical records now able to share notes and test results with other doctors and with me. Eye surgery that used to require five days in the hospital is now outpatient.
I can look up my medical records online. I can order prescriptions and have them arrive in the mail.
Most of the technological improvements that have benefited me in the last few months are recent developments. Five years ago, I would have been forced to rely entirely on family and friends to help with routine tasks. (I have learned from this experience, however, that I have a large number of supportive friends.)
How fast will technology continue to improve? Delivery drones are on the way, gas-powered cars on the way out.
Speaking of which, I will be driving again soon, but the ride-hailing and internet shopping will continue.•
__________
Shella hosted WFYI's "Indiana Week in Review" for 25 years and covered Indiana politics for WISH-TV for more than three decades. Send comments to ibjedit@ibj.com.

Click here for more Forefront columns.
Please enable JavaScript to view this content.