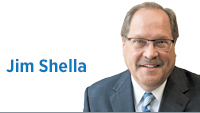 I went to a McDonald's drive-thru the other day and ordered a hamburger. Big deal, right? Here is why it's unusual: I was just wrapping up a four-day getaway with my girlfriend and it was the first time we purchased a meal from a restaurant of any kind. That would have been inconceivable last summer.
The effort to avoid the coronavirus has changed all our lives in significant ways. Our long weekend excursion started out with a sack lunch, something I hadn't done since my children were small. Every subsequent meal was prepared at the small rental house where we stayed, safe from other tourists, servers and restaurant hosts.
Free time was spent on the beach, where social distancing was practiced at the direction of large signs normally reserved for traffic instructions.
Come to think of it, we were out of town on a weekend I might normally be at a Colts game. I have been a season-ticket holder since the team moved to Indianapolis in the 1980s. I love football. This year, I asked the Colts to refund my ticket money and they did.
On the form they sent me, I cited the reason as "health and safety concerns." It seems to me that screaming for Marlon Mack to avoid a tackle just doesn't work while wearing a face mask and, with it off, you are inviting trouble, due to the fan screaming in the row behind you. High-fives and hugs following a touchdown? Let's do that at home.
(Let me just say that I am grateful to the Colts, not only for the refund, but also for the decision to allow me to reserve my seats for 2021 and to maintain my tenure as a ticket-holder when it comes time to purchase playoff tickets.)
So far this year, I have canceled plans to attend NCAA basketball games in Florida during March Madness, a spring training baseball game, and, of course, the Indianapolis 500.
I have attended the Greatest Spectacle in Racing more than 30 times and wanted to go again this year, under different circumstances.
Not all of my life adjustments involve leisure time. I had eye surgery in May and was forced to go alone. Doctor visits are solo, too. My daughter and son-in-law are in high-risk categories and unwilling to take even small chances. On the infrequent occasions we visit in person, they park in my driveway and we sit in folding chairs, conversing through the car window.
We're getting through it. But I know that not everyone is coping as well. I see the people on social media and the TV news who scream and rant when they are forced to wear a mask. I have spoken to my elderly neighbor who is lonely and feels confined. I see the news with the casualty counts, and I read the obituaries.
I can't believe Donald Trump gave a convention speech with a thousand people in close proximity to one another with no face masks. His desire to ignore the pandemic is counterproductive, to say the least.
I am left to wonder how much more quickly we would return to normal if the leadership in Washington leaned on medical science rather than polling data.
My normally apolitical daughter just put a Joe Biden sign in her yard.•
__________
Shella hosted WFYI's "Indiana Week in Review" for 25 years and covered Indiana politics for WISH-TV for more than three decades. Send comments to ibjedit@ibj.com.

Click here for more Forefront columns.
Please enable JavaScript to view this content.