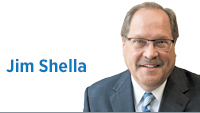 I traveled to Washington, D.C., for the first time in April 1985. I landed at the airport, jumped into a cab and instructed the driver to take me to Capitol Hill. "Where on Capitol Hill?" he asked.
"Uh, Capitol Hill …," I said, not knowing what more to say.
"It's a big place," he said, waiting for more specific instructions.
"Just get me within view of the Capitol."
He drove to a stoplight next to the U.S. Capitol, and I jumped out.
A congressman I knew was walking by just then. He said hello and we started talking. He was in a hurry to cast a vote, so I walked with him. He entered a doorway and I stayed with him, then another doorway, and suddenly, I was on the floor of the House of Representatives.
Welcome to Washington.
That couldn't happen now. High fences surround the Capitol as a part of security measures prompted by the Jan. 6 riot. Even members of Congress are required to pass through metal detectors now.
The D.C. fences are identical to the ones that created a security perimeter in 2016 around the venues that hosted the national political conventions in Cleveland and Philadelphia. Working inside them, you had the sensation of being in an armed camp. Traveling from a worksite in the convention center in Cleveland to the basketball arena that served as the convention hall required a ride in a shuttle bus. Bags and equipment were searched. Police officers in riot gear were at every intersection as the buses passed down alleyways created by fencing on both sides. Side streets were blocked off.
There were protests nearby, and the security seemed to make some sense, in part, because the general public is not invited to political conventions.
But Capitol Hill is different. That's where voters go to see their representatives. It is the heart of democracy. The increase in restrictions there, warranted or not, is a limitation on representative government.
It makes you consider what's happened at airports in the days since 9/11. The security measures have increased time and again, from metal detectors, to X-ray machines, to the forced removal of shoes and belts, to bans on liquids. There is no reason to believe any of those measures will ever be removed.
We can't abide a progression like that on Capitol Hill. The damage caused by the rioters who tried to reverse an election goes far beyond the death and destruction they left behind. They damaged our country. We could see long-term changes in fundamental operations of government. It's why rioters must be identified, arrested and given suitable punishment.
By the way, I went to Washington in 1985 to cover a disputed election. This one prompted real questions about election security much more serious than the imaginary fraud cited by rioters. It was the congressional race between Indiana Democrat Frank McCloskey and Republican Rick McIntyre. McIntyre had more votes following four months of recounts in Indiana, but Democrats who controlled Congress conducted their own recount and seated McCloskey. There was a GOP walkout led by Newt Gingrich.
Indiana leaders from both parties worked to make permanent changes in state election law, including the establishment of the Recount Commission.
But it all ended peacefully.
And consider this: Right now, you can't hold a peaceful demonstration on Capitol Hill.•
__________
Shella hosted WFYI's "Indiana Week in Review" for 25 years and covered Indiana politics for WISH-TV for more than three decades. Send comments to ibjedit@ibj.com.

Click here for more Forefront columns.
Please enable JavaScript to view this content.