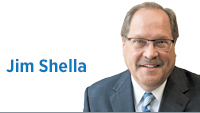 Sit down, buckle up, brace yourself and get ready for a wild campaign season.
America is in a troubled time. And the symptoms of that trouble are about to appear regularly on your TV screen.
I predict that, between now and November, negative campaigning will reach levels never before witnessed in America or Indiana. Both in frequency and tone.
The hope here is that it doesn't get worse than that. I'm talking about destruction and violence. Can you carry a gun into a polling place now?
In the wake of Jan. 6, what was once unimaginable is now entirely possible.
Consider that a former president is the target of numerous investigations, the current president is the subject of buyer's remorse by some members of his own party, and everywhere you turn you can witness political battles. Cable TV channels duel one another with one-sided coverage, while voters choose social media outlets that fuel polarized views. Local media outlets, meanwhile, have cut back on political coverage and give less and less guidance to voters hoping to sort it all out.
There are even battles within parties. Gov. Eric Holcomb has found it impossible to compromise with right-wing Republicans who see him as too moderate. He was booed at the state Republican convention.
On the other side, as some Marion County Democrats want an African American to lead the county organization, County Chair Kate Sweeney decided to resign at an inopportune time for the party.
It's all very messy, and there is a desire by some to turn away. Don't.
Democracy is a participation sport. It doesn't work without citizen involvement. In the words of former President Dwight Eisenhower, "The future of this republic is in the hands of the American voter."
And that's why we all need to endure the mudslinging and wade through the leftovers to make meaningful choices in November.
I often get asked by people how I can stand dealing with politics and politicians on a regular basis. I tell them that we encounter politics everywhere we go. There are politics at home, in church and at work. Politics, the politics that surround government and elections, is the only place where they call it what it is. In that arena, you are free to question people's motives and ambition, not to mention their facts and conclusions. And that's what a journalist does for a living.
I also like to quote Winston Churchill, who once said, "Democracy is the worst form of government except for all those other forms that have been tried from time to time."
We are not only in a democracy but the best democracy in the history of the world. But there is no guarantee that it will last.
Leadership is lacking.
Republicans and Democrats like to talk about a time when we had leaders like Richard Lugar and Lee Hamilton, men who had vision, charisma, intelligence and yet a willingness to compromise.
They are from a different time when you didn't have to endure radicals in your own party and social media attacks the way you do now.
Repeated gerrymandering has given rise to extremists in both parties. Quality leaders, it seems to me, turn away from politics.
If this sounds like a rant, it's because it probably is one. I just listened to someone talking about planning a move to Canada, and I think that's the wrong answer.
We need to fix America.
So, sit down, buckle up, brace yourself and do your part. For all of us.•
__________
Shella hosted WFYI's "Indiana Week in Review" for 25 years and covered Indiana politics for WISH-TV for more than three decades. Send comments to ibjedit@ibj.com.

Click here for more Forefront columns.
Please enable JavaScript to view this content.