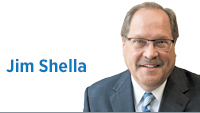 Everyone who is surprised that legalized gambling in Indiana has led to accusations of corruption, please raise your hand.
I see a few out there.
Now, everyone who has followed gambling issues closely and is surprised that Brent Waltz is involved, please raise your hand.
Bueller? Anyone?
The news that former state senator and former congressional candidate Brent Waltz faces federal charges for campaign finance violations might be the closing chapter in a public career that was launched by his positions in favor of legalized gambling.
More surprising, maybe, are the charges against casino executive John Keeler. Keeler built a strong reputation over decades in the Statehouse, as a state representative, then as a lobbyist, and finally as a casino executive. But let's just step back and take a long look at this.
When the General Assembly was debating legalized gambling in the form of a lottery in the mid-'80s, opponents led by activist Paul Oakes, with ties to the Methodist Church, warned repeatedly that a lottery would soon lead to casino gambling and that casino gambling would lead to corruption. I remember thinking at the time that Oakes was overselling his case, coming up with dramatic scenarios that seemed unlikely in conservative Indiana.
I was wrong.
The lottery was approved in a statewide referendum in 1988 and the first tickets were sold in 1989. The formal efforts to establish casinos in Indiana began the next year. By 1993, the Legislature, tempted by the gambling revenue that suddenly made budget-making easier, approved a bill calling for 10 riverboat casinos. In 1995, the first casino opened. More casinos followed in Anderson and Shelbyville. Indiana casino revenue in 2018 was $2.24 billion.
And the legalized gambling industry continues to grow, with the addition of sports betting.
But the opposition continues as well.
Waltz was first elected to the state Senate in 2004 after he won a GOP primary against powerful Finance Committee Chairman Larry Borst. Borst was opposed to more gambling, and Waltz had the support of Republicans who saw Borst as an obstacle. There has been an open discussion in Statehouse hallways ever since about Waltz's ethics.
And just maybe, that's how this investigation started. I can tell you that, several years ago, I was invited to lunch by an FBI special agent who said he was part of a new government-corruption unit. He wanted me to share information about politicians who might be crooked. I asked him if the FBI pursues rumors. He said yes. I had nothing for him.
Yet I now know that his unit was focusing on campaign-finance violations. They arrested GOP contributor Tim Durham not long after.
Conventional wisdom says that John Keeler was too smart to get caught up in this sort of thing, and he is innocent until proven guilty. But if Paul Oakes were here, he would lecture us all on the topic of greed.
The bottom line is that gambling has been good to Indiana. Just check out the quality of the roads in any casino county and understand that your taxes are lower because of the gambling taxes paid by casinos.
But everything comes with a price, and, when casinos produce huge profits, greed is sure to follow. That leads to corruption, and it has finally hit the front pages of Indiana newspapers. No one should be surprised.•
__________
Shella hosted WFYI's "Indiana Week in Review" for 25 years and covered Indiana politics for WISH-TV for more than three decades. Send comments to ibjedit@ibj.com.

Click here for more Forefront columns.
Please enable JavaScript to view this content.