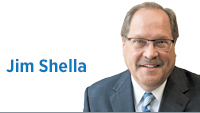 As we approach the 2022 election in Indiana, I have questions.
◗ What's wrong with the Indiana Democrats?
Indiana needs a two-party system, and right now we don't have one. It's been 10 years since a Democrat was elected statewide. The Republicans dominate at almost every level. I watched a candidate forum in the U.S. Senate race the other night, and the Democrat, Hammond Mayor Tom McDermott, went on a rant about how his fundraising is lousy and, he said, the Democrats in Washington don't care about him or Indiana.
I submit that D.C. Democrats need something more to care about, and so do Indiana Democrats. McDermott lost a primary for Congress two years ago, and now he's running statewide. He is the best example you can cite that Indiana Democrats have no candidate pool to draw from. No bench.
As an aside, McDermott pointed to a poll that shows him within two points of Republican Todd Young. It's the only public poll in the race, and it must be wrong. That's because campaigns do their own polling, and Young is doing his best to duck every question. He does not feel threatened.
◗ Did you know Todd Young is a Marine?
It's the central focus of every Young ad. Apparently, it appeals to a portion of the electorate, but, interestingly enough, McDermott also has a sterling military record. That fact is drowned out by Young's persistent ads. See above.
◗ Who's a bigger hypocrite, Mike Pence or Todd Rokita?
There is no wrong answer to this question.
Pence had his life threatened on Jan. 6 by the original election deniers. Recently, he appeared at a fundraiser for Republican secretary of state candidate Diego Morales, who won the GOP nomination by denying President Joe Biden's election. Does Pence have no conscience?
When Rokita was secretary of state, he fired Morales. Now he's endorsing him. Call it the Herschel Walker effect; Republicans are rallying around the Georgia U.S. Senate candidate because they want the office, not the candidate. Same here. And Rokita has no shame.
◗ Is Destiny Wells qualified to serve as secretary of state?
The Democrat is her party's best hope in 2022, but all the attention, it seems, is on Morales. Wells is qualified. The real question is, will Republicans and independents give her a shot? In this red state, she remains an underdog.
◗ Should school board candidates reveal their party affiliation?
It's a question that arises as schools consider issues like critical race theory. School board candidates run on a nonpartisan basis, and voters are easily misled about their core beliefs. I have what I think are better questions: Why are we still electing school board members? Is there a better way to run our schools?
◗ Why am I seeing so many Kyle Walker ads?
The GOP state senator from Lawrence was appointed to fill a vacancy and is facing voters for the first time. He's in a district that voted for Biden, so you could say he's an underdog to Democrat Jocelyn Vare. However, Walker is a former Marion County Republican chairman and his wife, Jennifer Hallowell, is a professional GOP strategist. If they can't figure out how to win, it's a career crisis for both of them.
◗ What will be the election night surprise?
It seems like most Indiana elections produce an unexpected result. Greg Ballard elected mayor. Glenda Ritz elected state school superintendent. I would tell you this year's, but then it wouldn't be a surprise.•
__________
Shella hosted WFYI's "Indiana Week in Review" for 25 years and covered Indiana politics for WISH-TV for more than three decades. Send comments to ibjedit@ibj.com.

Click here for more Forefront columns.
Please enable JavaScript to view this content.