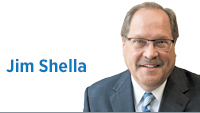 I recently witnessed the final scenes of a terrible tragedy. This is a true story. To borrow a line from a crime drama, the names have been changed out of respect for the deceased. The details are accurate out of respect for survivors.
The central figure in this story is a man I'll call Bob. Bob was a great guy—fun-loving, responsible, religious, a role model.
Bob served in the Army and the National Guard and worked his entire career at an executive-level job in the federal government. He died last month at 50 because he refused to get the coronavirus vaccine. Family members report that he was "scared" of the vaccine even though he was in a high-risk category with severe asthma. He thought the vaccinations were approved too quickly.
But he was unwilling to stop living life.
Bob was a bowler. A good one. He joined a group of six people a few weeks back on an out-of-state trip to a bowling tournament. He bowled a perfect game. 300. They started calling him Mr. 300.
And so, the group went out to celebrate at a bar. That's where family members believe Bob contracted the virus. So did three other people in his party, including his wife. She was vaccinated, and family members report that she experienced sniffles for about three days. Bob fell ill. Seriously ill. After a few days, he went to the emergency room. Within 24 hours, he was in the ICU. Soon after, he was placed on a ventilator and things never got better.
One other member of the bowling party also ended up in the ICU, but he recovered.
We all have our stories of coping with COVID. I took some risks, and I'm sure you did, too. But when the vaccine came out, I got in line as fast as I could. I even had some side effects—felt sick for a couple of days after the second shot—but that's OK.
I took the shot not only to protect myself, but also because I feel I have a responsibility to help others, and any step toward herd immunity is an act in the direction of helping others. The scientists now tell us herd immunity is unlikely. Because of the variants, we need to reach levels of vaccination approaching 90%, and too many people are unwilling to get a shot.
I have a relative who might be one of them. He bristles when he's asked about the vaccination. He says it's no one else's business, and he responds to those questions with invasive medical questions of his own. For example: "Are you circumcised?"
That didn't stop me from asking him if he was vaccinated. I didn't get a direct answer, but I believe it is my business. It is all of our business.
Bob received two funerals, one in the city where he lived and worked and one in his hometown. Invitations to the funerals included a request that everyone wear a mask. He was buried with full military honors, treated like the hero he was in most aspects of his life.
Before he died, Bob promised to get the vaccine. At the second funeral, his daughter got up to speak. She implored everyone to get the vaccine.
That's his legacy now.•
__________
Shella hosted WFYI's "Indiana Week in Review" for 25 years and covered Indiana politics for WISH-TV for more than three decades. Send comments to ibjedit@ibj.com.

Click here for more Forefront columns.
Please enable JavaScript to view this content.