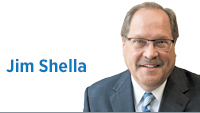 Republican Victoria Spartz will face off with Democrat Christina Hale for a seat in Congress in November. The 5th District race will be the most watched campaign in this state because there is no incumbent. Republican Susan Brooks is retiring. It should be a good race, even though the primary results were anything but surprising.
Spartz and Hale were the best-financed candidates in their respective races and favorites from the beginning.
In politics, money talks.
Nevertheless, this primary was different because the coronavirus meant candidates were unable to hold in-person fundraisers, rallies, or debates. There was no door-to-door campaigning.
Even so, a new organization, Indiana Town Halls, tried to bring a more civil tone to the primaries in the 5th District.
ITH conducted three virtual town halls with 18 candidates taking part. (You can see the results at Indiantownhalls.org.)
More on that in a minute, but first some background. You may remember that I first wrote about nonpartisan activist Les Zwirn and his fledgling movement to create congressional town halls last fall. In the time since, I have joined Zwirn as one of the organization's founders, along with GOP state Sen. John Ruckelshaus and Democratic state Rep. Ed DeLaney. (They inspired Zwirn to begin his efforts with bipartisan town halls at the state level.)
Our original plan called for using the Ivy Tech Community College auditorium in Noblesville for a live town hall. The governor's stay-at-home order did away with that plan. Then, we pursued a town hall in a TV studio at WFYI. Again, social distancing concerns got in the way. In the end, we chose to conduct virtual town halls using Zoom.
It was not perfect, but it was pretty good. We were able to get the candidates on the record on important issues from the coronavirus response to immigration. WFYI streamed the events and a partnership with Informing to Empower, a California based not-for-profit, allowed us to show edited clips of the town halls that arranged responses in one minute segments according to answers from each candidate and answers to each question. (You can see that at candidatesvideodebate.com.)
The candidates were civil throughout and cooperative.
Sure, there were attack ads and nasty mail pieces during the campaigns, but we think the forums gave voters a unique way to ignore all of that and find out which candidate most agreed with their point of view.
We plan to do it again in the fall and then we hope that the winning candidate will take part in a town hall meeting next year. It will be designed to address only the issues before Congress, with no focus on the next election.
The ultimate goal is to sponsor town halls in all of Indiana's nine congressional districts. The idea is to give voters a greater say in government.
Politics is too partisan and politicians are too often removed from the daily concerns of voters, focusing instead on the wants of party leaders and big donors.
Did Indiana Town Halls make a difference? Maybe. You can help us determine that if you saw a town hall and you are willing to go to our website and fill out a short survey. Your answers could help us pursue funding and a future.
Democracy is difficult and messy but it should always be representative and we're trying to make sure members of Congress understand what they are representing.•
__________
Shella hosted WFYI's "Indiana Week in Review" for 25 years and covered Indiana politics for WISH-TV for more than three decades. Send comments to ibjedit@ibj.com.

Click here for more Forefront columns.
Please enable JavaScript to view this content.