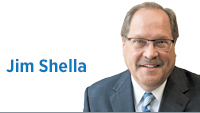 My sleeve is rolled up. I can't wait for the coronavirus vaccine.
I will be in line as soon as the vaccine becomes available, in part because I am in a high-risk category based on age and an asthma condition.
But, I'm all for vaccines. I made a visit to my local pharmacy one day in October and received a flu shot, a pneumonia vaccine and the first dose of the shingles vaccine, all in one sitting. I will be back for the shingles booster in a few days.
I know that not everyone shares my point of view. I covered former congressman Dan Burton when the Indiana Republican took on Big Pharma in an effort to prove that his grandchild and others had become autistic as a result of childhood vaccinations. His allegations made it all the way to "60 Minutes."
Nothing was ever proven, however, and, while actress Jenny McCarthy has made a name for herself fighting the same battle, I believe vaccines are safe and effective.
In the meantime, I learned recently that an elderly aunt has contracted the coronavirus, and a guy I played golf with earlier this year did, too. A former co-worker couldn't take part in a virtual lunch the other day because she was recovering from the virus. I am reminded of how a New York Times reporter said in a January podcast that we would all know someone who gets the virus, if we don't get it ourselves.
And so my Thanksgiving dinner was a party of three. A close friend who enjoys throwing a large Christmas party every year has canceled his event. My holiday plans are up in the air. We have all been affected and, because I no longer go to work every day, thanks to retirement, my risk is thankfully reduced.
I have time to turn on the TV and see Donald Trump taking credit for the vaccine. He says that, without him, there would be none. He says that Joe Biden could not have accomplished this so quickly because he, Donald Trump, removed regulations to speed up the process.
But then we see that the same vaccine that is coming to my pharmacy soon has already been approved for use in the United Kingdom. They beat us to it.
In fact, Big Pharma gets the credit. Pfizer did not accept any government money to develop, test or expand manufacturing capacity for the vaccine. It turns out that some of those high prescription prices we all pay actually make it possible for serious people to conduct serious business when all of our lives are at stake.
But politicians will always look for ways to take credit for the work of others.
Vice President Mike Pence is doing his best on Twitter to give President Trump the lion's share of recognition for vaccine development. He said on Twitter that Trump "marshaled the fastest vaccine development in history! That's leadership!"
And he's getting help from Fox News contributor Geraldo Rivera, of all people. Rivera suggested naming the vaccine after the outgoing president. Call the inoculation "The Trump," he said. Years from now, it will become a generic name, he said. "Have you got your Trump yet?"
If the vaccine is named after Trump, I will roll my sleeve back down. I'm dropping my drawers instead.•
__________
Shella hosted WFYI's "Indiana Week in Review" for 25 years and covered Indiana politics for WISH-TV for more than three decades. Send comments to ibjedit@ibj.com.

Click here for more Forefront columns.
Please enable JavaScript to view this content.