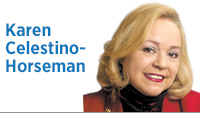 When Donald Trump was elected president in 2016, I was devastated. I saw him as a man without character, but I hoped and prayed he would rise to the challenge and help a split America recover from a bruising election. Unfortunately, Trump did not rise to the challenge and the divide between us has become a chasm that might never be bridged.
My father used to say that even a stopped clock is right twice a day, so I am not going to say everything Trump has done is wrong. But time and again, he has shown he does not want to bring our country back together. Even now, as we struggle to survive a pandemic, he has made face masks and social distancing a political statement. The development of a vaccine has become a race to have something before Election Day, not to reduce deaths. Trump claims the number of COVID-19 deaths is exaggerated to make him look bad.
He continues to make unsubstantiated claims that our cities are burning because of governments led by Democrats. According to Trump, our suburbs are in trouble because Democrats want to move affordable housing into the suburbs (i.e., the poor should be kept in the metropolitan areas). He claims that Antifa, garbed in black, boarded a plane in a large group heading somewhere to cause trouble—but he offers no details. Trump now specializes in painting a picture of a very troubled America.
Trump wants division between us. He wants his base to be fearful and believe that he is the only person who can save them from the false future he is painting. His base honestly believes the man can walk on water, and his followers will continue to believe every lie that comes out of his mouth. They like the idea of being saved, even if the threat presented is nonexistent.
The importance of the November presidential election cannot be emphasized enough. This single election is going to define who we are as Americans and the future path of our country. If we reelect Trump, what does it say about us?
I have several Republican friends who have voted Republican all their lives and who have not spent the last four years drinking the Trump Kool-Aid. They now face a conundrum: Do they vote to reelect Trump?
As one who believes that voting is not only our constitutional right but also an American responsibility, I find myself in the strange position of advising them to scratch the presidential race if they cannot bring themselves to vote for Joe Biden. I never thought I would be advising people to abdicate their responsibility, but then again, I never thought I would be barraged by tweets from a U.S. president sharing every thought as it entered his head without regard for consequences, or that foreign countries would try to manipulate our elections, or that I would need to wear a face mask to go to the grocery.
Personally, I believe we should vote for Biden (I think he will make a great president) if for no other reason than to vote against Trump and what he stands for. But the point is, if—as a Republican—you cannot bring yourself to vote for Biden and no longer want a divided America, then scratch your presidential vote. It will be a first step toward saving America.•
__________
Celestino-Horseman is an Indianapolis attorney. Send comments to ibjedit@ibj.com.

Click here for more Forefront columns.
Please enable JavaScript to view this content.