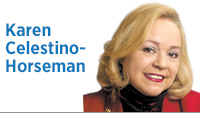 When Indianapolis reopened following what seemed to be a never-ending lockdown, I was hopeful. We had a vaccine that allowed us to dine out, visit friends and live again outside the walls of our homes.
What I did not anticipate was the number of people who would refuse to get vaccinated. Thanks to the unvaccinated and a new mutation of COVID, the number of new cases is reaching or, in some states, exceeding the level of cases reported last year. Government officials haven't mandated masks—yet—but I can see that day coming, and the possibility of a second lockdown is the white elephant all of us have averted our eyes from.
I have several family members who have refused the vaccine, including a registered nurse and a licensed practical nurse. They are all intelligent, caring people who love their family. So, I wondered, why place themselves and those they love at risk?
I have concluded that the same factor that drove me to get vaccinated is the factor driving them to avoid vaccination. That factor is fear. I was vaccinated because I feared what would happen to me if I weren't vaccinated. My family members are more fearful of repercussions from the vaccine than they are of COVID. They have pointed to anecdotal evidence of people who have gotten ill after receiving the vaccine and the fact that it lacks FDA approval. They cannot provide me with any scientific evidence that the cure is worse than the disease.
Also, some people believe that, if they get the vaccine, it will be construed as a show of support for President Joe Biden. They disregard the fact that the vaccine was developed at the request of former President Donald Trump and that he himself has been vaccinated.
While I might not agree with the fear factor, I can at least understand it. This latter position is one I will never understand. And think about this: If Trump wanted to do a public service announcement encouraging people to be vaccinated, it would likely get huge airplay and make him relevant—something he desperately wants now. But he is not offering to do such a PSA because it would help unite the country and might lose him voters in his base. The vaccination issue cannot get more political than this.
What I now fear is that people will fight violently against a second lockdown. The riots of last summer arose out of anger and frustration with social issues and by the feeling that we lacked control over what was happening to us
In a second lockdown, I believe that anger will be felt by people across the spectrum. The vaccinated will be angry with the unvaccinated for forcing us back into lockdown. The unvaccinated will be angry with the government for telling them what to do. And the strife will be encouraged by political leaders who believe they have everything to gain by frustrating the government's efforts to fight COVID. If a second lockdown is imposed, it will not be pretty.
What everyone needs to realize is that we, including the scientists, are learning about this virus as it plays out. As we learn about one strain of the virus, another mutation arises, bringing different problems.
Until we resolve to work together to fight COVID, it will continue to be a deadly problem requiring drastic measures that we do not like.•
__________
Celestino-Horseman is an Indianapolis attorney. Send comments to ibjedit@ibj.com.

Click here for more Forefront columns.
Please enable JavaScript to view this content.