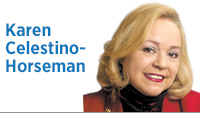 Before the pandemic, Barbara (not her real name) lived paycheck to paycheck. The amount of money she earned working for a downtown business for nearly 20 years was not great, but it paid her rent and allowed her to enjoy a few simple extras. Barbara loved her independence, her job and the many customers she had helped and whom she had grown to consider friends. If you live downtown, chances are good you know Barbara.
In March, Barbara was admitted to the hospital due to a serious infection and remained there for over a week. She was unable to return to work and subsequently lost her apartment. Just a few months ago, she learned she has cancer and has been undergoing treatment. She also has had a constant heart condition for many years that has required treatment but still she persevered.
Despite the pain and health problems, Barbara continued working until she was forced to enter the hospital. She has applied for disability and hopes she will be able to return to work part time because she wants to work.
But most important to Barbara is that she wants once again to be independent and not have to rely upon the kindnesses of strangers. For the last few months, she has been couch-surfing with a family member, but that family member needs the space. So, Barbara might have to enter a homeless shelter at the end of the month. An agency is reviewing her situation and I am hoping they can place her in temporary housing.
I am sharing Barbara's story because, given all she has been through, she continues to try to move forward. 2020 has not been a good year. It has taxed us financially, emotionally and, for some, physically.
When faced with her adversities, Barbara had two choices: She could simply give up and throw herself upon the mercy of others, or she could navigate her way back to a life of independence. Barbara has chosen the latter course and in her shining example lies a lesson for all of us.
When Barbara said she would be moving to a homeless shelter at the end of the month, she stated it without self-pity. She had gauged her situation, knew she could not sleep on the streets and decided she would try to find a homeless shelter until she was able to once again be independent. She did not ask for help but instead simply stated her circumstances.
Afterward, I envisioned how I would feel if faced with such a prospect, and I knew immediately that I could not handle it. That is when I decided to call upon a friend to see if he could help her.
But Barbara reminded me of something especially important—the benefit of looking forward. Yes, my life is challenging and, yes, it is filled with stress as I worry about my business constantly and whether I can hang on until the pandemic is over. But after hearing Barbara's story, when I get anxious, I remind myself that I have a roof over my head, food on my table and, for now, a paycheck. All I have to do is move forward, one day at a time. No more, no less.
Times are dark and likely to get darker, but if Barbara can remain determined to move forward, so can we. And, like Barbara, we will survive 2020.•
__________
Celestino-Horseman is an Indianapolis attorney. Send comments to ibjedit@ibj.com.
Click here for more Forefront columns.
Please enable JavaScript to view this content.