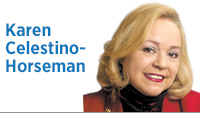 Texas, Florida and Arizona are sending buses and planeloads of asylum seekers to Democratic-controlled cities—not because the migrants can get the services they want, but to make a political point to further the political aspirations of three Republican governors.
The asylum seekers—many from Venezuela, which is currently facing a humanitarian emergency—must present themselves to federal agents at the U.S. border and declare they are seeking asylum. Their applications are processed by the U.S. Department of Homeland Security to determine if they have a legitimate basis for asylum. If so, the asylum seekers are then released pending a final decision on their asylum application.
Representatives of Texas, Florida and Arizona are offering free travel to the asylum seekers to places such as Chicago; Washington, D.C.; and Martha's Vineyard, Massachusetts, promising that the buses will make stops along the way so those being transported can connect with family and friends. Alternatively, they are promising that the final destination will provide shelter and assistance. These are empty words intended to deceive and secure cooperation.
Florida Gov. Ron DeSantis committed $16 million of Florida's funds to a private aviation company. Its first job was to use two planes to fly 48 asylum seekers from Texas to Martha's Vineyard. The asylum seekers willingly climbed on the plane after DeSantis' representative promised that, at the end of the journey, the migrants would find food, jobs and assistance. Instead, they found themselves on a small island with limited resources that was totally unprepared to assist on the scale needed. No one from DeSantis' office called ahead to let the community know what was coming so preparations could be made.
If asylum seekers were taxing Florida's resources, DeSantis would not have had to hunt them down in Texas. Instead, DeSantis wanted to score politically, with an eye toward the 2024 presidential election. He used people fleeing the life-threatening conditions of Venezuela to make a political point at a personal cost to them and to Florida taxpayers.
When Texas Gov. Greg Abbott started sending buses of asylum seekers out of Texas, he promised them the bus would make stops along the way so the passengers could connect with family and friends. In actuality, the buses were either told not to stop by authorities in states such as Georgia, or the buses refused to make the promised stops in states such as Tennessee, despite making representations to the contrary. Abbott sent buses to New York City, regardless of whether that was where the passengers wanted to go.
Arizona Gov. Doug Ducey has sent 57 buses with 2,043 asylum seekers to Washington, D.C., dumping them not at a social services agency but rather outside the home of the vice president. This has cost Arizona $4 million and provides no support for the migrants.
Moving people around like pieces on a game board is not going to solve any problems. If Ducey, Abbott and DeSantis do not want the United States to accept asylum seekers, they need to lobby Congress for a change in the law. If their states need financial assistance to support the asylum seekers, take the request to Congress.
In fact, these governors had four years to do this when their Republican colleagues controlled the White House and Congress. But do not take people unfamiliar with our country, its customs and language and simply dump them anywhere. These are people, not trash. Their treatment by Ducey, Abbott and DeSantis speaks volumes about the character of these governors or, rather, the lack thereof.•
__________
Celestino-Horseman is an Indianapolis attorney. Send comments to ibjedit@ibj.com.

Click here for more Forefront columns.
Please enable JavaScript to view this content.