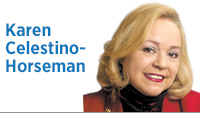 American elections have a new post-election tradition: Losing candidates are emulating Donald Trump and claiming they lost because of a conspiracy to defeat them.
Kari Lake, candidate for governor of Arizona, is an excellent example. The reason Lake's outrageous and dishonest claims have traction among a minority segment of voters is because elections are complicated and not easily understood.
New technology and concerns regarding election security have led to additional layers of safeguards. Long gone are the days when a ballot box could be "stuffed" with paper ballots. Further, it is impossible to have certified vote totals on Election Day. Our election safeguards to ensure accurate vote-counting take time. Mailed absentee ballots and overseas ballots must be given time to arrive. Voters who were challenged and cast a provisional ballot must be given time to address the challenge.
Election Day mishaps are going to occur because elections are run by human hands and depend on technology. In Maricopa County, Arizona, some vote centers had problems with printers that were printing too light or were not properly aligned; when ballots were inserted into the tabulator, the tabulator could not read them. Pending fixing of the printer, voters were given the choice of either waiting for the printers to be fixed or receiving the address of the closest vote center where they could cast a ballot. While the voters might have been inconvenienced, they were not denied a means by which to cast their ballot.
Was the election in Maricopa County perfect? Certainly not. But problems such as these do not automatically equate to Election Day fraud. As Lake and others crying foul well know, there is a process by which election results can be reviewed. It is called a recount. And because Lake's race was close, there will be an automatic recount.
A recount of paper ballots that were digitally tabulated involves a manual count of the cast ballots, which is then compared to the tabulated vote. In addition, the number of votes cast is compared with the number of voters checked in on the poll book. A recount examines the ballots that were challenged and all the absentee ballots. A recount looks at the provisional ballots that were cast. If numbers do not match as required, then there is further examination to determine why. In other words, a recount is a thorough examination of the votes that were cast and seeks to make sure every properly cast ballot is counted.
The votes must be certified before a recount petition is filed. Why not do the recount before the certification? First, before doing a recount, one must have vote tallies of everything. That is the starting point for purposes of a recount. The certification is not set in stone if there is a recount. If the recount determines that votes were not properly counted, the certified election results are changed and if the loser is actually the winner, the former loser is declared the winning candidate.
Lake knows she will not find the votes she needs to win, so she is table-pounding in preparation for her next race. But no amount of lies about the election process will change the vote totals. All Lake and her ilk are doing is eroding belief in a bedrock of our democracy—free and fair elections, which include the right to a recount.
Kari, get on with your recount and hold your comments until all the election evidence is reviewed. The numbers don't lie.•
__________
Celestino-Horseman is an Indianapolis attorney. Send comments to ibjedit@ibj.com.

Click here for more Forefront columns.
Please enable JavaScript to view this content.